What does Apple CEO Tim Cook, boss of the world's most valuable company and successor to the venerable Steve Jobs, have in common with NBC News anchor Brian Williams? On the surface, not a whole lot. But to hear Williams tell it, they're basically the same guy.
During the 20-minute interview, Williams cannot help but make several comparisons between himself and Cook. "It sounded to me that you and I grew up with the same American life, kind of grindingly simple and normal American middle class household — when you and I as kids would go to a neighbor's house and see, under their new TV, Sony Trinitron, that would tell us something instantly," Williams said at one point.
Later, Williams pointed out that Cook looked more like an average guy than the demigod Jobs was to some Apple fans: "[Steve Jobs] was all black turtleneck and the glass frames and mystical and mysterious, and — you know, forgive me, you and I could work at a Best Buy. We're, you know, plain-looking people."
Joking aside, the interview's high point came as the two discussed Apple's manufacturing partnerships overseas. Cook told Williams that Apple plans to make a line of existing Mac computers in the United States next year. In a Bloomberg Businessweek interview that hit the web on Thursday morning and became available in print on Friday, Cook also said that the company will invest $100 million to follow through with manufacturing partnerships in the U.S. in 2013. He did not, in either interview, specify which line of Macs would move stateside.
Before You Go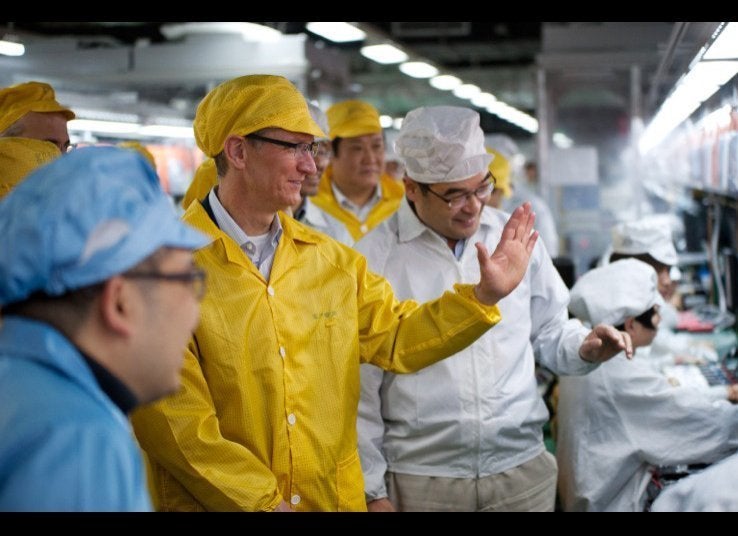 5 Things Tim Cook Is Doing Better Than Steve Jobs
Popular in the Community