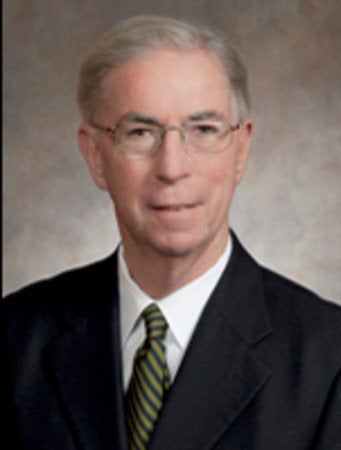 A Democratic state senator in Wisconsin has announced that he is leaving the party to become an independent just weeks after Democrats regained the Senate majority in the recall elections.
Sen. Tim Cullen of Janesville notified Senate Democrats of his decision to leave the party on Tuesday, after he did not receive the committee leadership positions he wanted from Senate Majority Leader Mark Miller (D-Monona).
Cullen, a former Senate majority leader, was offered the chairmanship of the small business and tourism committee, a position he declined. He told the Wisconsin State-Journal he was interested in a top spot on either the education or health committees, which he said he wasn't given due to his independent nature.
"This was not an accident," Cullen said. "I was not accidentally overlooked. It was blatantly, intentionally, intending to insult me and the people of the 15th (Senate District)."

Cullen said that during his last discussion with Miller, the Democratic leader hung up on him.

Miller refused to talk to reporters Tuesday, but issued the following statement:

"I am disappointed in Sen. Cullen and the decision he made today. Sen. Cullen turned down the chairmanship of the Committee on Small Business Development and Tourism. He told me that if that was the committee offered to him, he would rather chair no committee at all. It was an important committee as small business is the economic engine for Wisconsin."
Democrats retook a one-seat majority in the Senate after Democrat John Lehman unseated Republican incumbent Van Wanggaard during the June 6 recall elections, a decision that was confirmed after a recount that lasted for several weeks.
Lehman was sworn into the Senate last week, which is when Miller announced the committee appointments. Lehman was made chairman of the Committee on Education and Corrections.
Cullen's move likely won't be that significant in the near-term. The Senate isn't supposed to meet this year before the November elections. A Republican state senator recently announced that he was resigning his seat to join Gov. Scott Walker's (R) staff, meaning that Democrats will still retain a majority without Cullen.
Cullen's move is similar to movements in the New York State Senate in the summer of 2009 when two Democratic senators briefly caucused with Republicans, flipping the 32-30 majority from Democratic to Republican. As part of the deal, then-Sen. Pedro Espada (D-Bronx) became Senate president. The Senate was then flipped to a 31-31 tie when then Sen. Hiram Monserrate (D-Queens) returned to the Democratic fold, a situation which remained until the appointment of Lt. Gov. Richard Ravitch (D). Espada later returned to the Democratic caucus and was made Senate majority leader and retained his chairmanship of the housing committee.
Popular in the Community