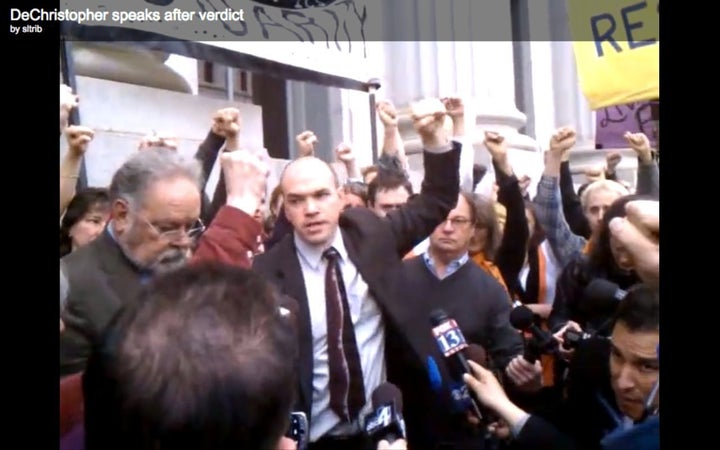 On Thursday, a jury in Salt Lake City declared climate activist Tim DeChristopher guilty for his interference with an oil and gas auction held at the end of the Bush administration. He faces a sentence of up to 10 years, to be determined by a judge.
The following is a transcript and video of Tim's speech outside of the courthouse after the guilty verdict was handed down. Tim's words are reminiscent of the heroes of other social movements that used civil disobedience to achieve their ends. And they're a challenge to all of us working to solve the climate crisis to consider our own willingness to go to jail for our beliefs (in fact, a website, Climate Direct Action, has been set up for people to sign up to learn more about how to take part in civil disobedience for the climate).
What the world wanted to see was how you would react. And you have reacted with joy and resolve. You've shown that your power will not be intimidated by any power that they have, and that's the most important thing that's happened here this week.

Because everything that happened inside that building tried to convince me that I was alone and that I was weak. They tried to convince me that I was like a little finger out there on my own that could easily be broken. And all of you out here were the reminder for all of us that I wasn't just a finger all alone in there, but that I was connected to hand with many fingers that could be united together as one fist, and that that fist could not be broken by the power that they have in there.

That fist is not a symbol of violence. That fist is a symbol that we will not be mislead into thinking that we are alone. We will not be lied to and told that we are weak. We will not be divided and we will not back down. That fist is a symbol that we are connected and that we are powerful. It's a symbol that we hold true to our vision of a healthy and just world and that we are building the self empowering movement to make it happen. All those authorities in there wanted me to think like a finger but are children are calling to us to think like a fist.

And we know that now I'll have to go prison, we know that now that is the reality. But that's just the job that I have to do. That's the role that I face. Many before me have gone to jail for justice and if we are going to achieve our vision many after me will have to join me as well.

No one ever told us that this battle would be easy. No one ever told us that we wouldn't have to make sacrifices. We knew that when we started this fight.

Every wave on the ocean that has ever risen up and refused to lay back down has been dashed on the shore, but it is the very purpose of a wave to rise up, because once it rises up above the horizon it finally has the perspective to see that it's not just a wave, that it's a part of a mighty ocean. And the sharpest rock on the wildest shore can never break that ocean apart, they can never wear that ocean down, because it's the ocean that shapes the shore.

That's what we're starting to do here today. That's what we're starting to do here this week. With wave after wave after wave crashing against that shore, we shape it to our vision. Thank you all for being a part of that.
Related
Popular in the Community