 The San Antonio Spurs wrapped up a frenzied three-games-in-three-nights stretch by shutting down the Philadelphia Sixers in the second half on Sunday, only giving up 11 points in the fourth quarter.
Among those watching the Spurs put the clamps on the 76ers was veteran star Tim Duncan. The 35-year-old was given the night off. No, Duncan was not sidelined by any particular injury. Of course, the official box score at NBA.com does list a condition that likely won't be improving any time soon.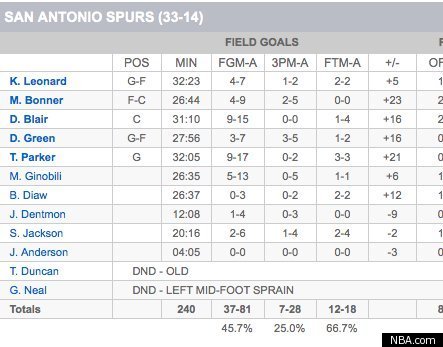 Apparently, the official reason for Duncan sitting was his age. After 15 seasons, Duncan was listed as a DND-Old. The "DND" stands for "Did Not Dress." The "OLD" represents the 1,097 regular-season games that Duncan has logged.
Referee Josh Tiven handed Duncan a technical foul in the first half for unwelcome comments after Manu Ginobili fell hard on a drive to the basket but didn't receive a call. This isn't the first time that Duncan has been T'd up while on the sidelines. During a game against Dallas back in 2007, referee Joey Crawford -- who was also working Sunday's Spurs-Sixers game -- ejected Duncan for laughing from the bench. Crawford was suspended for the altercation.

"I appreciated it," Ginobili said about Duncan's tech after the game. "I think Pop didn't. But it's good when you see your franchise player, even when he's not playing, stick with his team and support and cheer for them. He's a great leader, and we respect that."