Rosamund Felsen Gallery has a current exhibition of Tim Ebner's work. What a treat! For readers in the Los Angeles area, this is one absolutely not to be missed. It's sheer delight. Click on that Rosamund Felsen link and you'll immediately see what I mean: there's an image of Tim Ebner (he looks like he's having wicked fun!) and the recent work he's showing at the gallery, where all three spaces are chock-a-block with... fish!
It's like being under water in some vast, exotic aquarium, with fish of all shapes, sizes and colors swimming all around you.
Ebner's fish are stitched together out of a mass of colorful patterned materials. The eyes of the larger ones are glossy, hand-made ceramics, and the smaller ones, beady glass. All seem to be staring at the odd-person-out in this magical environment--yourself. Each has its own distinct facial expression and its body language, fierce...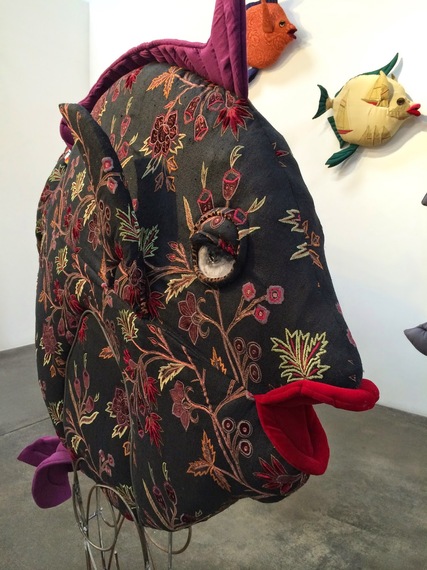 ... or whimsical, sad or curious. They are set up at a hundred different elevations on hand-welded stands, whose awkwardness turns into a paradoxical elegance...
The movement that you sense in walking through the installations is your own, because the fish are static--how much better thus, I thought, than had they been suspended from the ceiling and moving, themselves, with ambient shifts of air. This would have seemed like a corny attempt at realism. No, this is art.
It's also fun. You simply cannot help but smile as you swim along with these fantasy creations. They sweep you out of the gloom of all those problems you bring in with you--whether personal, cultural, or political. And there's plenty of that going around. So do yourself a favor. Get delighted. Go swim with the fishes. You'll be glad you did.
Related
Popular in the Community