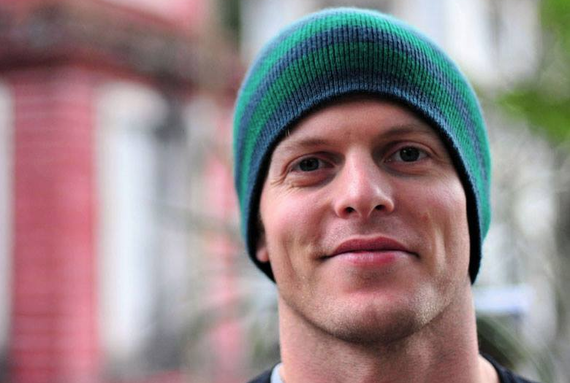 Tim Ferriss is known for more successful projects, investments and books than we can count. He's the mastermind behind The 4-Hour Workweek, The 4-Hour Body and The 4-Hour Chef. He's been listed as one of Fast Company's "Most Innovative Business People" and Forbes Magazine's "Names You Need to Know."
Tim is also one of the founders of Shopify's Build A Business Competition, and has been a mentor every year since.
We sat down with Tim to ask him your top questions about entrepreneurship and building a business. Here's what he had to say:

If you're aiming to differentiate your company, particularly if you're in a crowded space, you can't just stand to be cheapest as a small company. If you do become a threat, big companies can very easily put you out of business by lowering their prices for a period of time just to bleed you dry. There are a few resources you can use to help you get ahead. Wikipedia is a good source for book summaries. Another good source for book highlights is the Kindle site, where you can look at the most highlighted passages. A couple of good books to look at are The 22 Immutable Laws of Marketing by Al Ries, and Blue Ocean Strategy by W. Chan Kim and Renée Mauborgne.
You have to be different, and that has to be engrained in your DNA from the very beginning. If you're a resource-constrained startup, one of the only advantages you have is that you can move quickly.

The biggest myth in entrepreneurship, as far as I'm concerned, is that entrepreneurs are risk takers. I'm not a gambler. I mitigate risk whenever possible.
The best guys I know, male and female, who run startups well are extremely methodical and they're good at negotiating so they can mitigate risks. They're really good at running trials with distributors and manufacturers; they're good at clever workarounds.
The most common waste of time I see in startups and entrepreneurs is people who avoid their customers for as long as possible. It's very comfortable to operate in a cocoon and just read two more business books; just do a little more research; just spend an extra two weeks doing design refinement. You need to validate that there is market demand. You need to validate that there is an existing market that will buy your product. And that's uncomfortable. You risk rejection, but you need to get in front of potential customers as quickly as possible.

I'm conflicted about this. I personally don't like to mix business and family. I don't work with my family. I'm friends with my business associates, particularly if they're contractors or joint venture partners. I'm friends with my employees, but they're my employees first and foremost, and we develop a friendship partially based on their competency, if that makes sense.
I think friendships are very sacred, and I don't want to risk them by injecting money into the equation. I tend not to work with my friends, but I am friendly with the people I work with because life is both too short and too long to work with people you dislike.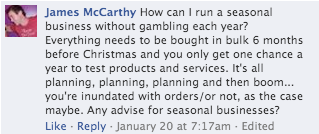 The first idea that pops into mind is that if you're selling a seasonal product, as opposed to a service, then you can follow the endless summer or endless winter and sell globally. If it's summer here, it's winter somewhere else.
If you're selling Burton snowboards, it's not like they stop selling snowboards when it's not winter in Tahoe. Where there is snow, they can sell snowboards. Start local, and plan for your early successes to be perhaps within your geographical space, but as soon as possible, go global. In this day and age, you can ship to Lithuania just as easily as you can ship around the corner. It's not that hard.

It's my opinion that it's not either or, it's both. You should look at your passions, your interests, specifically the markets you belong to. Your own purchasing behaviour. Look at your credit card statements and find where you spend an odd percentage of your income. Where are you price insensitive? And then, how old are you?
Once you take that, you'll have a number of different business options that are all scratching your own itch, in an area that you understand, for a demographic you know. Now you have to test it. Create some landing pages, create some Facebook ads to find some statistically relevant data to show whether or not you have enough people at a certain price point with an assumed certain conversion rate. Sounds complicated. It's not. That'll allow you to take those ideas, narrow it down to one or two, then choose the one with the highest margins, the most opportunities and that you're most excited about.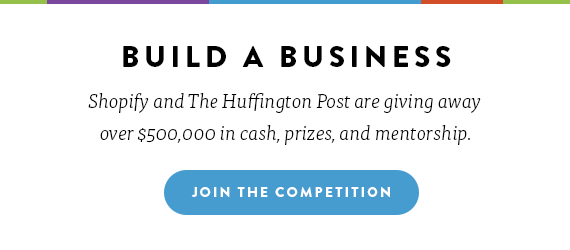 This year, Shopify's Build A Business Competition is bigger than ever. Shopify is giving away more than $500,000 in cash, prizes and mentorship in its fourth annual competition. Contestants create a store and try to sell the most in their category for a chance to win $50,000 and a VIP trip to NYC to meet their mentor.
Calling all HuffPost superfans!
Sign up for membership to become a founding member and help shape HuffPost's next chapter