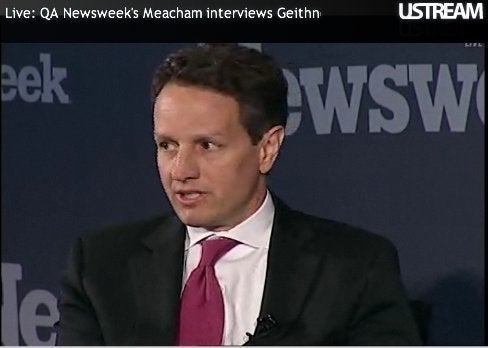 Treasury Secretary Timothy Geithner said on Monday that the government has no plans to cap compensation on Wall Street.
"I don't think our government should set caps on compensation," Geithner told Newsweek's John Meacham during a live interview at the National Press Club. But Geithner acknowledged that pay structures on Wall Street contributed to the financial collapse.
"You had a crisis magnified by the fact people were paid to take a certain amount of risks," Geithner said. He suggested possible measures that could rein-in excessive risk-taking, such as giving shareholders a "say on pay" vote and increasing disclosure requirements.
Geithner denied that the Treasury is sputtering in its lead role in the economic recovery and pointed to gains in the stock market as proof of the effectiveness of his policies.
"I think we're doing quite well in terms of speed and quality of policy," Geithner said. "Things that normally take years we're doing very very quickly."
The Washington Post reported on Monday that key decisions are going unmade at the department, partly because many positions remain vacant, leaving management "dominated by a small band of Geithner's counselors who coordinate rescue initiatives but lack formal authority to make decisions."
In response, Geithner pointed to progress on nominations. "The Senate is moving to confirm some very impressive people."
One of the very impressive people is Neal Wolin, whose nomination to Geithner's side is moving through the Senate. Wolin, before heading up the lobby shop at Hartford Financial Services Group, helped write the deregulation bill partially credited with causing the economy's current collapse.
Meacham asked Geither if the economy has "bottomed out."
"Things have clearly stabilized. The pace of decline slowed quite a lot," Geithner said. But he made an effort not to sound too optimistic. "Unemployment's going to keep increasing for a while... It's not going to feel better for a long time for millions of Americans."
Asked if the administration has been too soft on Wall Street, Geithner dodged, opting to trumpet progress in the credit markets and in the stock market. "Look at how markets responded to the stress tests," he said. "Greater disclosure brought reassurance and confidence."
Other administration officials have previously downplayed swings in the stock market as an indicator of policy effectiveness.
"We can't gauge our success on the basis of one day of fluctuations in the stock market," Axelrod said on Fox News Sunday in February. "We're in this for the long term and we're going to try and solve this problem for the long term."
Instead, Meacham closed with a nice softy, asking Geithner how he felt about being named one of "Barack's Beauties" by People magazine.
Geithner laughed. "It doesn't feel good."
Popular in the Community