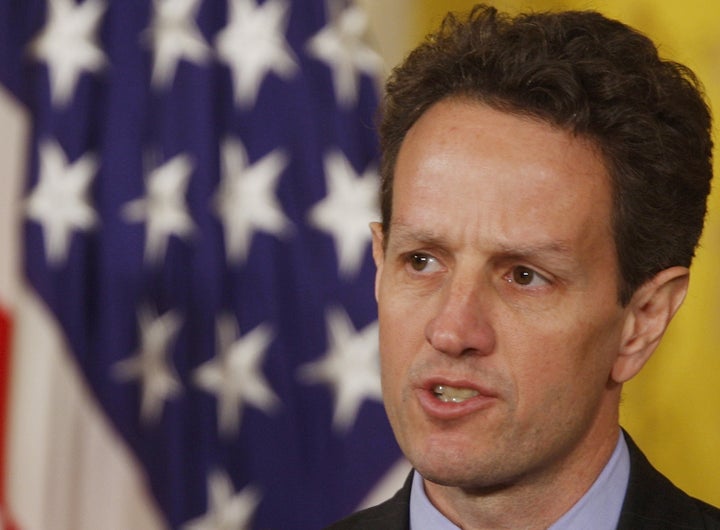 During the financial crisis, as the public called for limits on the $168 million in bonuses to be paid out to AIG employees, Treasury Secretary Tim Geithner had one stark response, The Wall Street Journal reports this morning. "This is not Bolivia," Geithner said.
Two new profiles of Geithner provide revealing glimpses into one of the Obama administration's most polarizing figures, and may lend ammunition to Geithner's critics, who argue that he's been far too sympathetic to bailed out institutions. Geithner, the two pieces suggest, is still quite anxious to reassure the public that he's more of a public servant than an entrenched ally to the banking sector.

The WSJ's piece emphasizes that Geithner sees himself as a "behind-the-scenes diplomat rather than a politician," who has resisted taking actions in response to public pressure if he feels those actions won't help the economy overall. He has resisted calls for a global tax on bank trading transactions and has allowed bailed out banks to quickly repay government funds, rather than remain under the government's direct purview.
Despite the criticism, the WSJ reports that Geithner is not going anywhere -- in fact, he's viewed as a standout:
In interviews, top White House officials--including Rahm Emanuel, the president's chief of staff, and senior political adviser David Axelrod--said Mr. Geithner's job is secure. "The president's view is that Tim is one of the stars," Mr. Emanuel said. "Tim was an essential and a key player in developing a strategy that helped restore confidence and turn the whole country around."
The WSJ also passes along this scoop: last Fall, Geithner resisted calls to oust embattled Citigroup CEO Vikram Pandit. (Geithner argued that he was not at Citi when the biggest problems formed.) And in a new profile in Vogue, Geithner is reported to have been offered a job as the CEO of Citigroup (He was "sorely tempted" by the offer, Vogue writes.)
"A lithe and athletic 48 years old, Geithner ... has the kind of looks that can go either way: Half an inch one way he's John F. Kennedy; half an inch the other he's Lyle Lovett. In person, he's friendly, relaxed, and prone to making jokes at his own expense--the first thing he tells me when we sit down is how much 'shit' he's going to get from his friends for doing an interview with Vogue. ... Geithner ... is very smart, very angry, and more than a little relieved that the economy did not tank further than it has. Indeed, as bad as things look today, it could have been worse. A lot worse. 'We were starting to have a classic bank run, people were starting to take their money out of banks, something that hadn't happened since the Great Depression.'"
Writing at Naked Capitalism, Yves Smith says that Geithner's recent press mentions amount to a PR campaign (actually, that's putting it nicely). Here's Smith:
The [WSJ] article has more seeming objective but actually slanted accounts, giving the logic of various Geithner positions, and the resistance they encountered, all told to create the impression that opponents are either rubes, unreasonable, or driven by the need to appease that lunatic, um, angry public.

But it was pretty obvious that something was up last week when I got this Treasury press release: "Treasury Secretary Tim Geithner Remarks on the Healthy Food Financing Initiative". And indeed, the Journal reveals this uncharacteristic move is part of a charm offensive (the Journal has a picture of Geithner "touring" a grocery store. "Touring"? Are normal domestic errands that alien to our Treasury Secretary? The stunt smacks more than a bit of desperation.
Popular in the Community