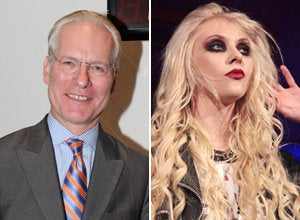 Tim Gunn shot a guest spot on 'Gossip Girl' a few weeks ago (for an upcoming episode) and he had nothing nice to say about costar Taylor Momsen.
"What a diva!" he told E! News. "She was pathetic, she couldn't remember her lines, and she didn't even have that many. I thought to myself 'why are we all being held hostage by this brat?'"
Gunn said that Momsen's constant Blackberry use was the main problem and the director told him it happened "day in, day out, my life." He said that if he was a regular on the show he would give her some advice.
"I'd say, 'You know young lady, there are hundreds of thousands of girls who are just as attractive and even smarter than you. Why are you acting like this show is a huge burden on you?'" he told E! "She was on her phone during every break, I wanted to tell her, 'If you weren't on your BlackBerry, you can retain this stuff.'"
Popular in the Community