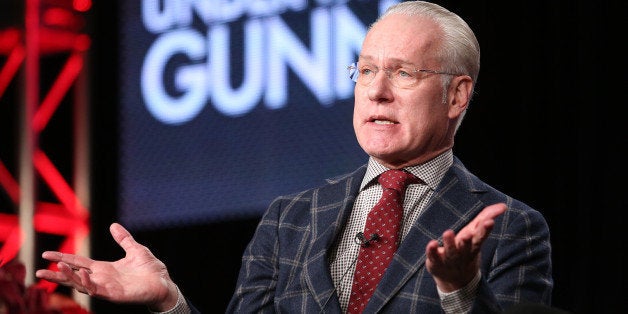 As snobby as the fashion world may seem, as an industry, it's widely embraced the LGBT community. Or as Tim Gunn puts it, "Men in the fashion industry, I assume that they're gay until proven otherwise."
This is perhaps why, after his troubled youth, Gunn has seemed to find solace in the style world, acting as America's resident fashion mentor first through his role at Parsons The New School for Design and then via "Project Runway" and "Project Runway: Under The Gunn," his new design competition series. He tells me that it was a long path to the enormous success he's achieved -- a path made only more complicated by him coming to terms with being gay.
"A large part of what I was struggling with as a teen was my sexuality," he says. "I didn't know who I was, but I certainly knew what I wasn't. And I knew I wasn't a heterosexual male. The whole idea of being gay absolutely terrified me."
Gunn cites Uncle Arthur on "Bewitched" and the decorators in Doris Day films as the only gay role models around when he was growing up in the '50s and '60s. ("For a while I thought being gay meant that you're hanging salmon-colored curtains in windows.") Growing up in Washington, D.C., he was picked on and bounced around from school to school, all of which led to a suicide attempt at the age of 17, which he discussed publicly for the first time in his "It Gets Better" video in 2010.
After years of struggling, becoming a role model himself in both the fashion and LGBT worlds is an achievement Gunn is unabashedly grateful for. Through reality television, he's opened up America to two communities that, unfortunately, aren't necessarily accessible to everyone, since he's both well-respected and adored. (Though he never did come out to his family.) "I meet so many people who are total strangers to me," he says. "They feel comfortable speaking to me, because they feel as if they know me, and, in a manner of speaking, they do."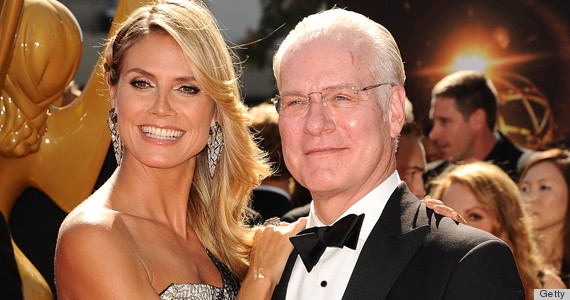 Heidi Klum, Gunn's co-star on "Project Runway," and Tim Gunn at the 2013 Emmy Awards
How Gunn's managed to eschew the oft-catty, alienating reputation of his fellow style critics is a testament to his thoughtfulness and sincerity -- he truly is just being himself, and America can see that. While his advice on both "Runway" and "Under The Gunn" is certainly kind, he takes a no-nonsense approach. He's also well-aware of the realities and limitations of the industry he thrives in.
Although Gunn thinks that fashion has been largely supportive of the LGBT community, he knows there's a long way to go until full acceptance trickles down into the mass market. Most recently, Barneys New York made headlines for enlisting a cast of transgender models for its latest campaign. But Gunn isn't quite sure that the department store is going to make a huge impact, given that it caters to an elite clientele. "I feel that these are people who are already 'on the team.' I think it could be more impactful if Target or Kmart were to do such a thing," he says.
On the issue of transgender models, however, Gunn is at odds with himself, especially when it comes to androgynous models, like Andrej Pejic, modeling women's clothing. "The fact that fashion designers would put basically adolescent-shaped boys or men in women's clothes is head-scratching for me because, anatomically, women and men have different shapes," he says. "So, to be looking at women's fashion on a tall, skinny guy with no hips, there's no way you can project yourself into those clothes."
With all of the flak the fashion world receives for perpetuating body image issues for women, some might think that models like Pejic make the waif standard all the more unattainable by telling women they're not supposed to have hips in the first place. "It underscores all of those body issues that we know women have," Gunn says. "It's the world telling us that there's something wrong with us and that we'd look better in our clothes and the world would think us more beautiful if we looked like this. I think it's horrible."
But the use of trans models isn't a black and white issue, even to Gunn. "I'm conflicted," he says. "On one hand, I don't want to say that because you were a man and now you're a woman, you can't be in a women's fashion show. But I feel it's a dicey issue. The fact of the matter is, when you are transgender -- if you go, say, male to female -- you're not having your pelvis broken and having it expanded surgically. You still have the anatomical bone structure of a man."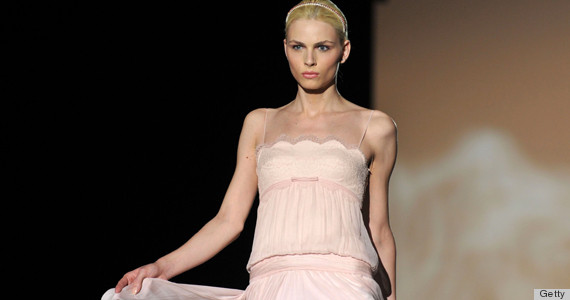 Andrej Pejic walks the runway during Barcelona Bridal Week 2012
Gunn seems almost apologetic about his stance on trans models. Considering his own struggles with identity and sexuality, it's not hard to see how he'd be divided between supporting an LGBT cause and doing what he thinks is best for the fashion industry, a world that's always supported him. "One of my mantras is that it's important to be honest; it's important to be direct," he says. "For me at least, it makes navigating the world so much easier and so much more comfortable. I can do it with so much more confidence when I can just be an open book."
Considering his 12-season tenure on "Runway" and the positive response he's received since opening up about his struggles, it seems America is just fine with Gunn's approach to honesty. We may not have known him when he was a troubled, bullied teen, but we can certainly learn from his path to self-acceptance and success.
"I feel so lucky," Gunn says. "I don't feel as though this recalibrated place in the world is in any way a revenge, but it is rather sweet in a way."
Before You Go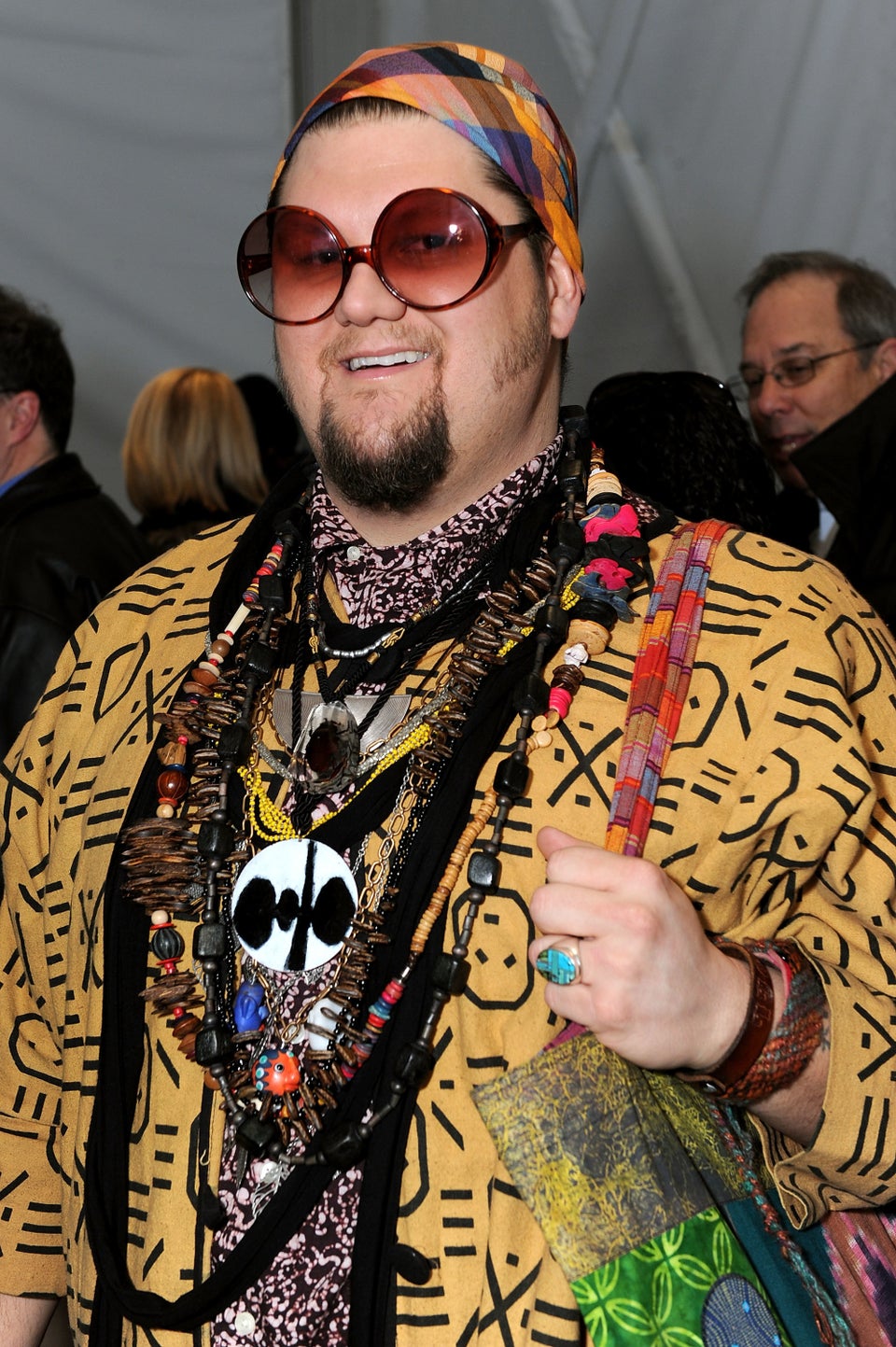 "Project Runway" Winners
Popular in the Community