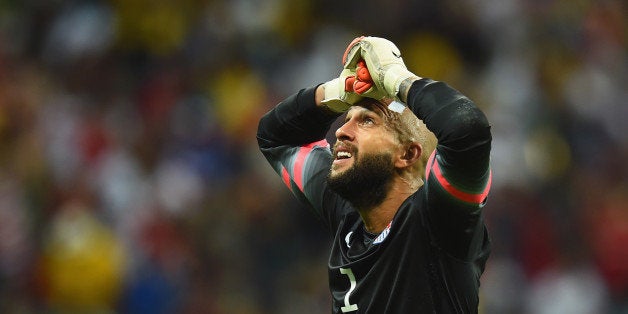 Though tongue-in-cheek, these jokes point to the faith Howard has expressed as being central to his life and his athletic ability. In an article for Athletes in Action, the goalie describes being diagnosed with Tourette's syndrome at the age of 11 and turning to his grandmother to find strength. She, in turn, derived strength from her Christian faith, and the effects trickled down to the young Howard.
Through her, God revealed His love for me as well. It wasn't long before I was following in her footsteps. I wanted the same kind of faith and peace she had, and that is exactly what God gave me.
The challenge of living with a neurological disorder was counterbalanced, Howard says, with his natural skill at soccer.
Living with Tourette's is not easy. But God has blessed me with the gift of athleticism as well. He has done some powerful things in my life through the combination of these 2 gifts. He also has shown me ways to use my position as a professional athlete to encourage others with Tourette's syndrome.
When he isn't playing for Team USA, Howard is the goalkeeper for the English club Everton. Off the field, Howard has been involved with team Bible studies and regularly volunteers with Christian organizations like the L8r Club, a youth group at Bramhall Baptist Church in the United Kingdom. On Tuesdays he plays soccer with the children before and after Bible lessons, offering his talents in a whole new venue.
"The best time for me," Howard said, "is when I see a breakthrough in [the youth.] To see them get a grasp of what God and Christ really mean."
As his stardom continues to rise in the U.K., the U.S. and around the world, Howard manages to stay grounded and keep some perspective on his success. This is where his faith stands out the most -- as the primary focus of his life.
Today, I am blessed to be living a dream. And yet, if it all went away tomorrow, I know I would still have peace. That probably sounds crazy to most people, but that's the kind of peace Christ gives. It is rooted in His love, and it surpasses all understanding.
CORRECTION: A previous version of this article stated that Tim Howard was the goalkeeper for Manchester United, but he left that team to begin playing with Everton in 2006.