 Tim Howard emerged from the World Cup as equal parts American hero and icon following his record-breaking 16 saves against Belgium in the United States' 2-1 knockout-round loss. What casual soccer fans may not know about Howard, 35, is that he was diagnosed with Tourette's syndrome in the sixth grade. Howard has used his soccer fame as a means of helping younger kids diagnosed with Tourette's to deal with the same challenges he faced as a youth.
Howard, who recently announced he will take a year off from the U.S. men's national team, looks poised to have another highly successful year playing for Everton of the English Premier League. HuffPost caught up with the New Jersey native to discuss his surge of popularity following Brazil, his favorite Internet meme and why playing goalie is cooler than ever.
This interview has been edited and condensed for clarity.
What has happened for you since the World Cup that has changed the most? Is it just the attention?
I think so. But it's interesting because for the last 11 or 12 years I lived in a fishbowl here in Manchester, so that's just kind of second nature now, you know? When you play football in England, people recognize you and people are often coming up to you. So you have to learn how to deal with that at a young age. So the fact that it happened more frequently this summer, it wasn't anything that was new. So it wasn't exactly hard to find that peace. And that's what's most important to while I'm getting all that attention -- trying to find that downtime and find that personal time.
Playing goalie has never been soccer's sexiest role. Do you now have more kids approaching you, saying that they too want to become a goalkeeper?
You know what? I've seen that, yeah. I've seen that trend and I think it's kind of cool. But I also think it has a lot less to do necessarily with me, and a lot to do with the goalkeeping in this World Cup. It was very impressive and I think a lot of people will tell you that for the first time in a long time, quite a number of goalkeepers stood out. And that was really cool to see for someone who loves the art of goalkeeping. So the fact that kids are now watching the television and then go out in the backyard and want to be goalkeeper is a cool move.
If there is one final goal for your career, would it be winning the Premier League? Going to the Champions League? What to you is left to accomplish?
At the club level, I want to get my hands on a trophy. I want to be able to feel that trophy and lift it and kiss it. I think that's important. Any time you want to strive to be great, you have to be a winner and you have to win championships. And for me, as I look towards where I'm at in my career and I can kind of see the finish line, that's what I want to achieve.
When you think of the state of U.S. soccer in general and how far it's come, what do you feel like the next step is? Would it be where Team USA is consistently going through the knockout round?
It's a tough one, because you only get two or three weeks every four years to accomplish that. And if you happen to have an off day in those two or three weeks in four years and all of a sudden you've tanked, people think that soccer in your country is going backwards. We need to, like you said, get out of the group. I think now we've shown we're a real force in the round of 16, but we need to go beyond that. But it kind of stinks that it has to happen every four years, because we're hungry for it and wish it could happen again very soon.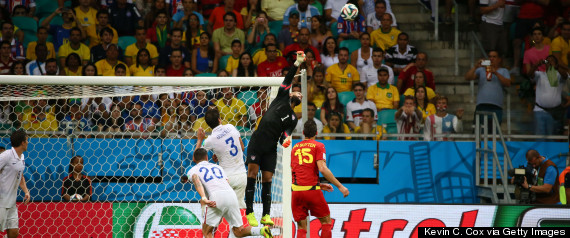 After the World Cup, you really took a break from all of the attention, which I thought was really cool, and I know you didn't attend the ESPYs. Why was it so important to you to spend time with your family following the World Cup?
I don't get a lot of time with my children. My time is precious, and time with my two kids is like gold dust to me. I can't get that time back. So it was more important to me to spend that time with them, just kind of hanging out and being together. I had some great opportunities that I had to turn down, but at the end of the day they weren't nearly as important as just being home and being a dad.
When you talk about having Tourette's, you have said that as a younger kid it was really hard for you to address it because maybe you didn't feel as confident. What have you tried to accomplish with Tourette's syndrome in terms of helping kids avoid the same issues you went through?
There's no real right way to address it, I don't think. My defense mechanism was to pretend I didn't have it and to hide it, and I turned out OK. But what I'm seeing over the years when talking to some very strong young kids, powerful youth -- they stood up in front of their class on the first day of school and gave an explanation of what Tourette's syndrome was and how it affected them. They kind of just talked about the elephant in the room and got it out of the way, and I just think that's so brave. And they were able to advocate for themselves. That's not to say that kids won't try and hide it, and try and not talk about it. But certainly we try and the charities that I work with try to empower the kids to be able to self-advocate and raise awareness in that regard.
Okay, serious question here: There were some legendary Tim Howard memes. What was your favorite meme that you saw?
I wasn't really into too many of them. My family and friends sent a lot of them to me. I think the funniest one, the one that I'll cherish, was -- I think I was wearing a green uniform, and I was catching Scooby-Doo. That one actually looked the most real.
Email me at jordan.schultz@huffingtonpost.com or ask me questions about anything sports-related at @Schultz_Report, and follow me on Instagram @Schultz_Report. Also, be sure to catch my NBC Sports Radio show "Kup and Schultz," which airs Sunday mornings from 9 to 12 EST, right here.
Calling all HuffPost superfans!
Sign up for membership to become a founding member and help shape HuffPost's next chapter