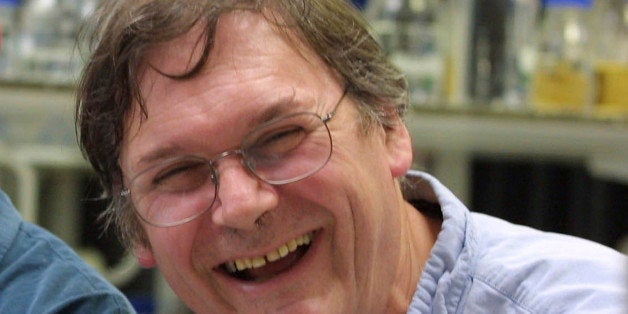 After Nobel Prize winning biochemist Tim Hunt's comments about women in science sparked an Internet firestorm and forced him to resign from several positions, some prominent politicians and scientists are saying his punishment has gone too far.
Nobel Prize winning biochemist Tim Hunt has been punished too harshly for recently saying that women are a distraction in laboratories, according to some prominent politicians and scientists standing by him.
The British scientist resigned from several positions after telling an audience in Korea last week that women should work in segregated labs because "[men] fall in love with them, they fall in love with [men] and when you criticize them, they cry." He apologized for the comments but stood by his claim that men falling in love with women in labs is "disruptive to the science." The backlash on social media, however, forced him to resign from his honorary professorship at University College London and his positions at the Royal Society and the European Research Council (ERC) days later.
Hunt conceded in an interview with The Observer that his comments were "inexcusable," but also claimed that they were misinterpreted. He told The Observer that he made them in "a totally jocular, ironic way," and he feels that the authorities that pushed him to quit handled the situation unfairly.

"I have been hung to dry by academic institutes who have not even bothered to ask me for my side of affairs," he said.
London mayor Boris Johnson came to Hunt's defense in an op-ed for The Telegraph on Sunday, saying that research shows women really do cry more than men.
"Whether you say it is a function of biology or social expectation, it is a fact that – on the whole – men and women express emotion differently," Johnson wrote. "There is, in other words, a gender difference, and it should not be an offence to say that ... Sir Tim Hunt was doing what he has done all his life – pointing out a natural phenomenon he had observed. He did not deserve to be pilloried, and should be reinstated forthwith to his academic positions."
In a tweet using the hashtag #ReinstateTimHunt, renowned evolutionary biologist and atheist Richard Dawkins described the criticisms of Hunt as a "witch-hunt."
"During the time I worked with him he was always immensely supportive of the ERC's work around gender equality," Dame Athene Donald, professor of experimental physics at Cambridge, told the Observer. "His off-the-cuff remarks in Korea are clearly inappropriate and indefensible, but … he has worked tirelessly in support of young scientists of both genders."
Hunt's wife Mary Collins, a prominent immunologist, defended her husband to The Observer and said she would never put up with sexism. While speaking at a debate on women in science in London in 2011, The Daily Mail noted, she said he "does all the cooking and washing. He is the housewife."
While Hunt lost his positions over remarks he regrets, at least one study shows that female scientists maybe be losing out on jobs every day because of attitudes seen in his comments. In 2012, researchers at Yale found that physicists, chemists and biologists are prone to favoring young male scientists over women with the same qualifications and are more willing to offer the man a job. When women in the study were hired, their salaries averaged nearly $4,000 less than what men were paid.
What do you think, readers? Did Hunt get his just deserts or was it excessive for him to lose his job?