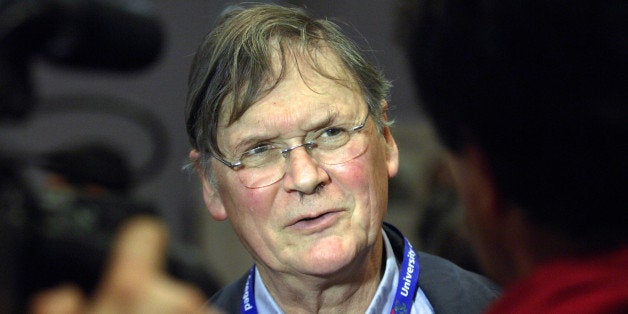 A new front opened in science's battle of the sexes started by Nobel Prize-winning biochemist Tim Hunt who said that women should work in segregated labs, partly because they cry at work. And this could show that Hunt and his supporters don't have the facts on their side.
"Three things happen when [women] are in the lab: You fall in love with them, they fall in love with you and when you criticize them, they cry," he said. Hunt later apologized for his comments.
But Hunt won the support of London Mayor Boris Johnson, who cited research by Professor Ad Vingerhoets of Netherlands' Tilburg University that women shed tears more often then men. The numbers Johnson cites are accurate, but Vingerhoets told HuffPost that his one study focusing on workplace crying actually showed men weep more often at work than women.
"Yes, in that specific study the male therapists cried somewhat more than their female counterparts," Vingerhoets told The Huffington Post in an email, referencing a study he completed three years ago about crying among psychotherapists. "That only holds for crying in the therapeutic setting."
Outside of their workplace, Vingerhoets found that female therapists cried more than male counterparts.
In an op-ed for The Telegraph, Johnson wrote that Hunt unfairly lost several prestigious positions and asserted that Hunt was only making a research-backed observation about gender differences.
The first question to ask, when someone is accused of saying something unacceptable – even in a semi-satirical way – is whether or not that statement is true. Is there any foundation to this casual assertion, that women cry more readily than men?

Well, yes, there is. Some men cry at the drop of a hat: Churchill was famously lacrimose. But the world's leading expert on crying, Professor Ad Vingerhoets of Tilburg University, has shown that women on average cry 30-64 times a year, while men cry only between six and 17 times a year; and the Dutchman also claims that women cry for an average of six minutes, while men cry for only two to three minutes.
When asked what he made of Hunt's comments that women cry in the lab, Vingerhoets said that it's a possibility.
"That certainly will happen," he wrote. "It is also a fact that women tend to cry more in conflict situations, because they experience powerless anger (and powerlessness and helplessness, rather than sadness, is the key trigger of emotional tears)."
Calling all HuffPost superfans!
Sign up for membership to become a founding member and help shape HuffPost's next chapter
BEFORE YOU GO
PHOTO GALLERY
Famous Women in STEM, A History