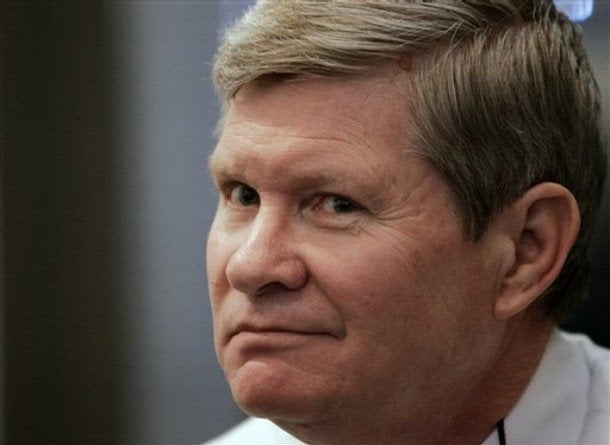 In an interview with the Huffington Post, Sen. Tim Johnson of South Dakota called Sarah Palin "not ready" to be vice president, referencing her recent statements on Russia and Iraq and her "laughable" experience arguments.
One enters Johnson's private hideaway office in the U.S. Capitol to find the Democrat sitting next to a stack of newspapers. While his staff is undergoing a wholesale office move this week, the Senator is working here, only a couple paces from the footpath of tourists, who stream steadily through the hallway just outside the small office's door.
Up for reelection this year in a deep-red state, the Senator was eager to talk politics. Declaring himself unimpressed with Alaska Gov. Sarah Palin's first interview with Charles Gibson Thursday night, Johnson called her "not ready" to lead the country as vice president. "And this idea that she has national security experience because of the Alaska National Guard, it's just laughable," he added. On the topic of Russia, Johnson said he would have been comforted if her statements in support of a possible war with the nuclear power had been joined "with some discussion of diplomacy."
Nodding toward the pile of newsprint, Johnson said Palin "thinks Iraq had something to do with Sept. 11," a reference to a Friday Washington Post article in which the Alaska Republican is quoted telling soldiers headed for deployment that they would soon be "defend[ing] the innocent from the enemies who planned and carried out and rejoiced in the death of thousands of Americans."
"I don't know what else you can do except just keep repeating the facts on Iraq," Johnson said. "I do it until I'm blue in the face."
Though his speech and body movement remain affected by the severe brain hemorrhage that nearly killed him in late 2006, Johnson expresses a palpable desire to keep moving ahead on his top priorities, which include job creation, in addition to farm assistance and water development. "South Dakota is a very dry state," Johnson said, adding that the earmark process frequently vilified by John McCain is actually critical for some of his constituents. "We need a lot of work on [these projects] to keep the clean water pumping," he said.
He even offered a bit of advice to Barack Obama, suggesting that the Democratic nominee should point out the ways in which these programs benefit average Americans. "I think John McCain's mantle of 'reform' can be challenged," Johnson said. "Especially since he's backed away from some of those issues that gave him [that reputation], such as immigration reform."
The Senator also shared a personal story about working in the Senate with John McCain. When serving as the body's rotating chair, Johnson recalls an episode in which he was told, mistakenly, by the Senate's parliamentarian that another Senator was floor manager when it should have been McCain. "Boy, he really gave me heck for that," Johnson said, though the only impact was a few minutes lost on the Senate floor. "I explained I was just doing what the parliamentarian had instructed me to do, but boy ... he can be hard to work with."
Johnson said he was recently reminded that he's hardly the only Senate colleague to have experienced McCain's reportedly white-hot temper.
"We had a caucus the other day and Harry Reid asked everyone, 'raise your hand if you've never been insulted by John McCain,'" Johnson noted with a glint in his eye. "And no one did."
REAL LIFE. REAL NEWS. REAL VOICES.
Help us tell more of the stories that matter from voices that too often remain unheard.