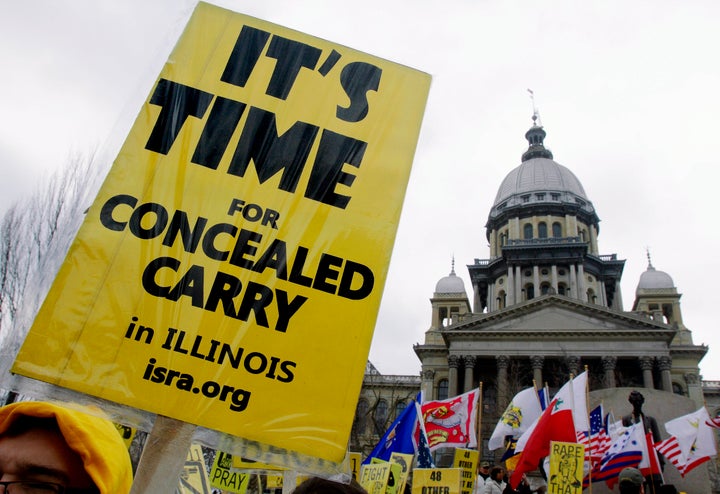 The bill would make a state permit to carry a concealed firearm valid in almost every other state in the country. It was the first pro-gun bill the House has taken up this year and the first since Rep. Gabrielle Giffords, D-Ariz., was severely injured in a gun attack in January, it had the National Rifle Association's backing and passed by a comfortable margin. The vote was 272-154, with only seven Republicans voting against it and 43 Democrats supporting it.
"The Second Amendment is a fundamental right to bear arms that should not be constrained by state boundary lines," said GOP Rep. Lamar Smith of Texas, chairman of the House Judiciary Committee.
Johnson wasn't the only Illinois congressman to support the concealed carry bill on a federal level. U.S. Reps. Bobby Schilling, Aaron Schock, Adam Kinzinger, Randy Hultgren and Joe Walsh also supported the measure. Illinois is currently the last state in the union without some form of concealed carry law on the books -- and state lawmakers have repeatedly failed to get any concealed carry measure passed.
"The Illinois Legislature is under the grip of Chicago politicians," Rep. Johnson said, according to the Northwest Indiana Times. "Their failure to grant to Illinois gun owners the same rights as the citizens of the other states necessitates that Congress exercise its powers under the 2nd and 14th amendments to allow Illinois citizens to safely carry firearms."
The National Rifle Association and the Illinois State Rifle Association have filed lawsuits against the state, stating that citizens are being denied their second and fourteenth amendment rights by not allowing concealed carry.
The net result of the "National Right-to-Carry Reciprocity Act" is to make the weakest state laws in the nation the Law of the Land. Denied a concealed handgun permit in your home state because of your criminal and mental health background? No problem. Thanks to the NRA, you'll now simply be able to mail-order a permit from Utah or Florida (whose screening requirements are an absolute joke) and you're ready to carry -- not just in your home state that determined you were a threat to public safety, but in every other state as well save Illinois (Illinois is the one state exempt from the bill because it has enacted no carry law whatsoever for private citizens)
According to the Brady Campaign to Prevent Gun Violence, the measure would allow states with tough requirements, such as New York and California, "to allow in concealed carry gun-toting people from states, such as Florida, which repeatedly have given dangerous people licenses to carry."
Democratic lawmakers have urged the Obama administration issue a veto threat against the bill, but he has yet to take an official position on the measure.
So far, the Democratic-controlled Senate has no parallel bill. But two years ago, GOP Sens. John Thune of South Dakota and David Vitter of Louisiana nearly succeeded in attaching a similar measure to a larger bill.
Opponents call the measure a "race to the bottom" which would allow "weaker state laws become the national law."
"I cannot imagine a reason you need to carry a concealed, loaded weapon unless you're willing to use it on another human being," Jennifer Loudon, the widow of Chicago Police Office Thor Soderberg, told the Chicago Tribune when a concealed carry bill was introduced in Springfield in March. Soderberg was gunned down outside of a police station last year. "I cannot wish that on anybody else. I do not want another family to ever have go through what our family has had to go through."
CORRECTION: This story originally stated that, if passed into law, HR 822 would allow people living in "constitutional carry" states to bring their concealed weapons into Illinois and face no criminal charges. This would only be the case if Illinois had any process in place for citizens to obtain a concealed carry permit. The law would allow permit holders from gun-friendly states to bring their weapons into states with stricter gun laws, and the gun owner would be allowed to act as if he or she were in the state where the permit was issued.

In the case of Rep. Johnson's failed measure, Illinois residents would be able to obtain permits in other states and those permits would carry over into Illinois, regardless of state law.
Related
Popular in the Community