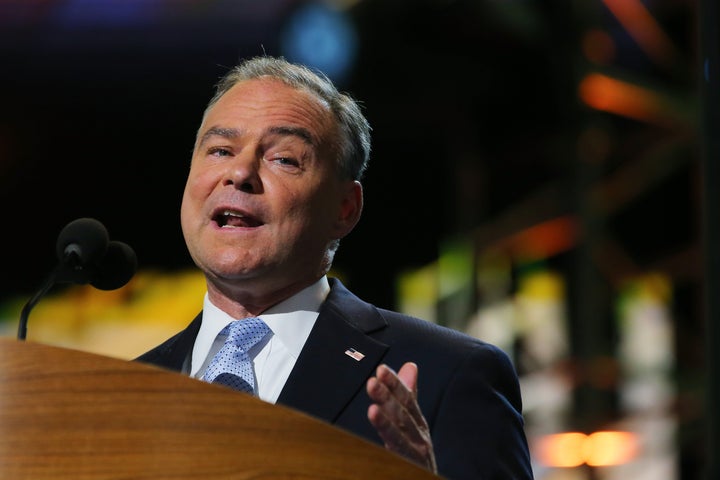 WASHINGTON -- Mitt Romney's comment about the "47 percent" of Americans who don't pay federal income taxes was front and center in the Virginia Senate debate on Thursday, with Democratic candidate Tim Kaine saying he would be open to having that group of people paying a minimum level of income taxes.
Kaine, the former governor of Virginia and Democratic National Committee chair, said he "deeply disagree[d]" with Romney's comments that 47 percent of Americans are "dependent on government." He called the remarks "condescending and divisive" at a time when the country is already divided.
When moderator David Gregory of NBC News asked Kaine whether he believes everyone in Virginia should have to pay some income taxes, Kaine said he would be open to setting a "minimum tax level for everyone."
GREGORY: Do you believe everyone in Virginia should pay something in federal income taxes?

KAINE: Everyone pays taxes.

GREGORY: But federal income taxes?

KAINE: I would be open to a proposal that would have some minimum tax level for everyone. But I do insist -- many of the 47 percent that Gov. Romney was going after pay a higher percentage of their income in taxes than he does.
While Kaine said he was open to legislation that would require this group of Americans -- primarily made up of seniors and low-income families -- to pay some income taxes, he argued Wednesday that people with incomes between $250,000 and $500,000 should not have to take on additional financial burdens.
Kaine released a TV ad on Wednesday saying he was in favor of keeping the Bush-era tax cuts in place for people making $500,000 or less, a point he reiterated during Thursday's debate.
"Let the Bush tax cuts expire, as planned, for people making more than $500,000," he said.
President Barack Obama and many Democrats, however, argue that the tax cuts should expire at a lower threshold, for the first $250,000 in income.
Romney's comments put George Allen, the Republican candidate in the race, in an uncomfortable position. When asked by Gregory whether he thought the 47 percent believe they are "victims," as Romney stated, Allen avoided directly addressing the question and spoke instead about creating jobs. After three more questions, Allen finally said he disagreed with the GOP nominee.
"I have my own point of view," he said. "And my point of view is the people of America still believe in the American dream. And our responsibility as leaders, as public servants, is to make sure that this is a country where everyone has that equal opportunity to compete and succeed and pursue their dreams."
After the debate, Allen told reporters that he disagreed with Kaine's openness to having the 47 percent all pay federal income taxes.
"I don't think everyone ought to be paying income taxes," Allen said.
The nearly half of Americans who don't pay federal income taxes generally don't do so because they are senior citizens, don't make enough in income or are active-duty members of the military -- or because of deductions that have been championed by both conservatives and liberals. Nearly all Americans do pay taxes in the form of payroll deductions, gas levies and a variety of state and local sales and property taxes.
This article was updated with a response from the Kaine campaign and additional comments from Allen.
Calling all HuffPost superfans!
Sign up for membership to become a founding member and help shape HuffPost's next chapter
BEFORE YOU GO
PHOTO GALLERY
2012 Senate Race Polls