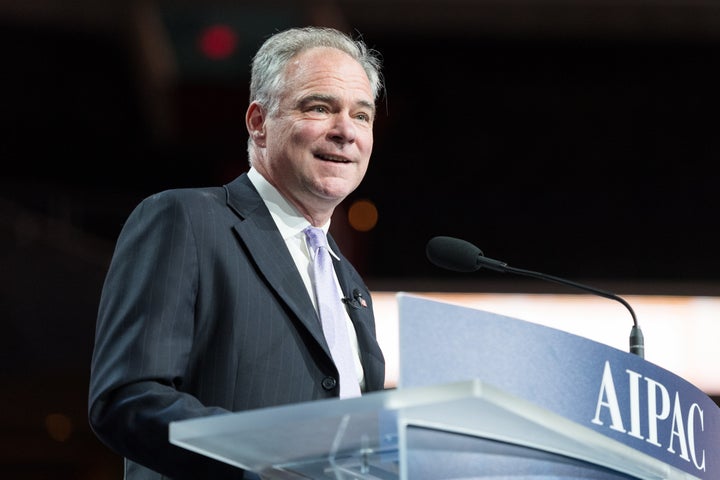 Kaine, his party's 2016 vice presidential candidate, ran on a progressive platform that embraced health care for all, tougher gun control laws and increasing access to education. In Stewart, he faced a challenger known for his anti-immigrant rhetoric and associations with white supremacist groups. But the incumbent mostly focused on his own record and positions.
"I'm running a positive campaign ― a Virginia that works for all," Kaine told Roanoke-based WDBJ-TV last week. "When I talk to Virginians, they want people who will pull us together. I stay away from the name-calling stuff. That's just not what I do. I've never done that in my time in elected office."
The former Virginia governor's reluctance to engage in hostile messaging was in stark contrast to Stewart, the controversial chairman of the Prince William Board of County Supervisors for more than a decade. In that post, he attracted national attention for pushing crackdowns on undocumented immigrants.
On the campaign trail, Stewart regularly echoed President Donald Trump's aggressive rhetoric toward the media and Democrats, accusing the political party of being an "angry mob."
"I'm going to be the president's number-one partner in the Senate," Stewart told The Virginian-Pilot in October. "I'm willing to be the bruiser ― twisting arms, knocking heads and ridiculing other senators in order to pressure them to getting the president's agenda through ... To do whatever it takes."
Stewart has been a vocal defender of Confederate monuments in Virginia and a strong supporter of a U.S.-Mexico border wall. He denies that global warming over the last century has rapidly increased due to human activity, despite findings to the contrary from the majority of climate scientists worldwide.
Kaine first won his Senate seat in 2012.
"Let them be the dividers, we'll be the uniters," Kaine said of Republicans in an interview with Politico last week. "We should be the positive, optimistic, and forward-looking party."
Calling all HuffPost superfans!
Sign up for membership to become a founding member and help shape HuffPost's next chapter