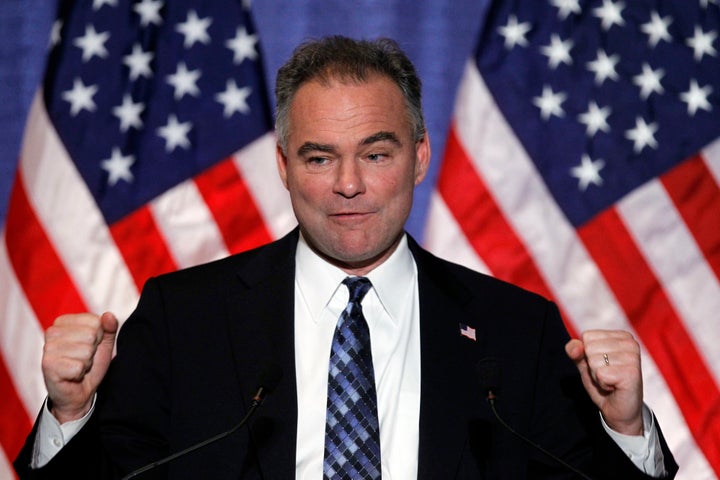 WASHINGTON -- Top Democratic officials say Democratic National Committee Chair Tim Kaine is "increasingly likely" to announce a run for the Virginia senate seat being vacated by Sen. Jim Webb but has not yet made a formal decision, despite some reports to the contrary.
The Virginia Democrat, who is fresh off a personal vacation and resuming his chairman responsibilities, reportedly told a class of students on Monday that he was going to challenge former Senator George Allen for Webb's senate seat. That report, which originated on local radio after a caller claimed friends in the class had heard Kaine declare his candidacy, caused an uproar on Twitter. Among campaign rollouts, an unexpected announcement in a random classroom would have been most peculiar.
Not surprisingly, the DNC was quick to throw a bit of cold water on the story.
"In response to a student's question, Governor Kaine told his law school class today what is already widely known, which is that he is increasingly likely to run," said the committee's Communications Director Brad Woodhouse. "However, no final decision will be made or announced until the governor has had a final round of consultations with folks about how he can best serve the president, the people and the causes he cares about; he is assured that the Democratic party will be in good hands should he choose to make the race and leave the DNC; he has the support that would be necessary to mount a successful campaign and he completes commitments for travel and fundraising he has made to the party and the president through at least the end of the month."
The key phrase in the quote is, of course, "increasingly likely" -- a description of Kaine's thinking that, despite Woodhouse's insistence, was not previously known. Indeed, signs seem to be pointing towards Kaine mounting a run for office, which party operatives have stressed would be the ideal development.
As for his current mindset, however, the former Virginia governor is, as one confidant put it, "still working it out."
Calling all HuffPost superfans!
Sign up for membership to become a founding member and help shape HuffPost's next chapter