Saturday night saw 3,600 members of the LGBTQ community and their allies gather at the DC Convention Center for the Human Rights Campaign's (HRC) annual National Dinner. This year the chairs of the dinner were Bruce Rohr and June Crenshaw. June has now served in this capacity three times and has shown again what an amazing person she is.
Things got started a little late but then it is a gay event so no one really complained. The press has a small seating section in the hall and one of the benefits of being there was the chance to chat with Sarah McBride who is a member of the communications team at HRC. Sarah was the first transgender person to ever address a national convention of a political party when she spoke at the Democratic National Convention. The HRC is officially a bi-partisan organization but it was clear from the thousands in the room they were in agreement with HRC's endorsement of Hillary Rodham Clinton for President. Any Donald Trump supporters would have felt very out of place in the room.
Some HRC supporters walked the red-carpet, some I knew and most I didn't which may have been a generational thing. There was the incredibly talented Sharon Gless who has been an outspoken supporter of the LGBTQ community for years. I felt lucky to be able to thank her personally for all she has done. One of the biggest cheers came for Nyle DiMarco, winner of Top Model and Dancing with the Stars. Nyle is more than a sexy hunk. He is an eloquent spokesperson/activist for the deaf community. Then HRC President Chad Griffin posed for a picture with the amazing Congressman John Lewis who has been a civil rights activist since working with Dr. Martin Luther King, Jr. but has also stood arm-in-arm with the LGBTQ community and we honor and thank him for a career fighting for social justice and equality.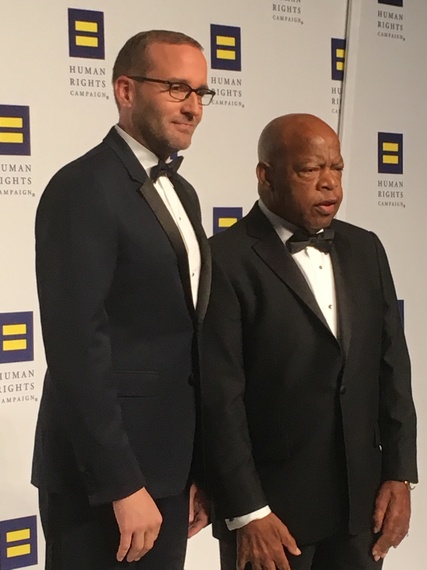 The first major speaker of the evening was Chad Griffin. Over the years he has become a great speaker. He began by thanking attendees for being there and said "because of all the progress you've helped make possible these last many years, countless Americans all across this country today are able to live fuller and more equal lives than they were just a short decade ago."
He spoke of lifting the ban on gay and transgender individuals serving in the military and the Supreme Court's decision making same-sex marriage legal in the country.
He also reminded everyone "despite all that we've accomplished, we are surrounded by constant reminders of just how far we still have to go in our fight for full equality. From Houston to North Carolina, from Orlando to Trump Tower, the roots of hatred and bigotry stretch far and wide. And this past year we've had to fight harder and dig deeper to push forward through some of the darkest times we have ever faced." He spoke of the tragedy in Orlando at Pulse Nightclub and Christopher Drew Leinonen who with his boyfriend, Juan, both lost their lives at Pulse. He recognized and thanked Christopher's mother, Christine Leinonen, who was at the dinner. Christine is a beautiful person and has turned her grief into a positive thing joining the Board of the Pride Fund to help fight for sensible gun laws.
Griffin then introduced the keynote speaker, Vice Presidential candidate Senator Tim Kaine (D-VA). What came through in Senator Kaine's speech is what all who know him already knew. Senator Kaine is a smart, decent man and one the country will be proud to call Vice-President.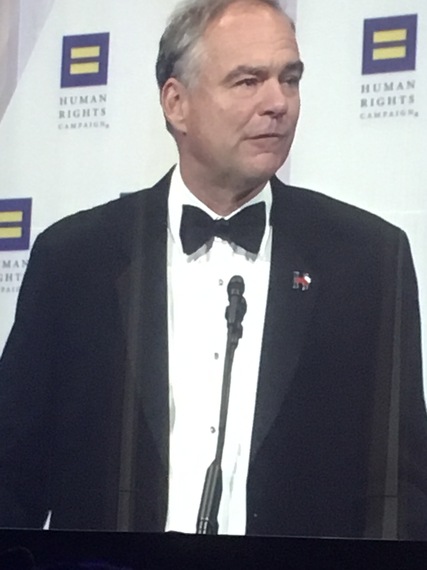 Senator Kaine always manages to speak to issues relating them to his life in a way people can easily understand and identify with. He spoke of how as a Catholic, despite some of the church's positions, he has come to understand and support what the full scope of equality means; whether it is civil rights, women's rights, the rights of immigrants or LGBTQ rights. Today he is a proud catholic who supports marriage-equality and is a sponsor of the Equality Act. He spoke of his support for sensible gun control and how his experience with the Virginia Tech shootings made such an indelible impression on him. He is married to Anne Holton, a successful person in her own right and the former Virginia Secretary of Education, and the daughter of A. Linwood Holton, Jr. a Republican Virginia Governor who fought to desegregate Virginia schools. Senator Kaine spoke of the opening of the military to gay and transgender persons and recognized Eric Fanning, the Secretary of the Army who was at the dinner, reminding all how far we have come when an incredibly qualified man who happens to be gay can be confirmed by the Senate.
All-in-all this was another great event for the Human Rights Campaign. HRC has its supporters and detractors but few can question we will need this organization to stay strong for many years to come as we work to both change the law and fight for cultural acceptance, which will be harder to achieve.
Calling all HuffPost superfans!
Sign up for membership to become a founding member and help shape HuffPost's next chapter