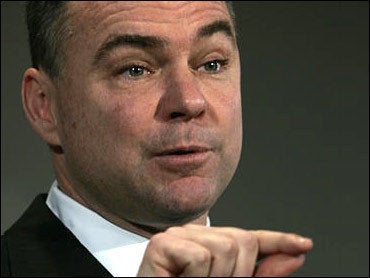 AUG 18 -- Kaine Defends Himself Against Rove: After Karl Rove critiqued Kaine as a vice presidential choice, the Virginia Governor fires back:
Kaine responded Sunday to comments made by Republican strategist Karl Rove earlier this month criticizing Kaine's potential vice presidential credentials.

On CBS' "Face the Nation," Rove jabbed at the governor, saying "again no disrespect to Gov. Kaine. He's been a governor for three years. He's been able but undistinguished. I don't think people could really name a big, important thing that he's done."

The Democratic governor -- who is rumored to be on Barack Obama's potential VP list -- pointed out that his state was voted best for business three years in a row by Forbes.com and said "maybe Karl Roves and the Republicans don't care about business climate, that would explain why we're in the situation that we're in".
Barack Obama's vice presidential vetting process has moved into a new stage in which a larger than previously reported group of candidates is being exposed to a "deeper dig" into their backgrounds -- in the words of a source familiar with the process.

The hard vetting involves follow-ups to lingering questions about candidates' backgrounds and clarifications of their stands on issues. While the process is intensifying, the fact that the number of potential candidates still being considered is larger than generally believed, suggests that no decision is imminent, just 26 days before the opening of the Democratic National Convention.

It also runs counter to much-publicized comments by Virginia Gov. Tim Kaine Tuesday that "there has been a long list. It seems to be getting shorter."
Kaine said it's flattering to be mentioned. Beyond that, he said, "I'm just not going to talk about my conversations with the campaign."
[S]everal people who have spoken to Kaine said he has talked about the seriousness of the possibility. Each spoke on the condition of anonymity, citing the campaign's desire to keep the process secret. One said Kaine has stressed that there are other top candidates but described his discussions with the campaign as "very serious."

Two other associates said Kaine's staff is providing the background information necessary to allow the campaign to search for potential political land mines. One source said Kaine chief counsel Larry Roberts is coordinating with Obama's team. Roberts could not be reached for comment. [...]

Kaine and Obama became friends after they campaigned together during Kaine's 2005 gubernatorial race. Kaine, who like Obama has Kansas roots, has returned the favor, stumping nationwide for the senator from Illinois during the primaries. In recent weeks, Kaine and his staff have been in frequent contact with Obama and his campaign about strategy and operations in Virginia and elsewhere. [...]

But Kaine has no foreign policy background, and as a first-term governor, he may add to voters' concerns about Obama's experience. Kaine remains popular in Virginia, but he has had trouble dealing with Republicans and has no single defining achievement to point to on the campaign trail.
JULY 28 -- Kaine 'Very, Very High' On VP Shortlist: Politico reports: A source says Obama is looking closely at Kaine.
As Senator Barack Obama turns to the choice of his running mate, Virginia Gov. Tim Kaine has emerged as one of the campaign's potential finalists, sources familiar with conversations in Richmond and in Chicago said. Kaine, an early Obama supporter whose biography nicely dovetails with the Illinois senator's, "ranks very, very high on the short list," said a source who has spoken recently to senior Obama aides about Kaine. Kaine "is getting a critical examination," the source said.
JULY 28: The Kaine Boomlet: Obama comments on "Meet The Press" set off speculation about Kaine.
Ears perked up all over Washington when Obama offered Brokaw a laundry list of characteristics important to him in selecting a vice president -- particularly when Obama seemed to suggest that his veep pick would need to be a change agent ready to shake up Washington. Conventional wisdom quickly formed: Obama was signaling his preference for an outside-the-Beltway pick (Virginia Gov. Tim Kaine or Kansas Gov. Kathleen Sebelius) rather than a Capitol Hill type.
McAuliffe was adamant in his recommendation of Kaine as the Democratic Party's vice presidential nominee Tuesday, although he stressed to the News-Press after his speech, which included an informal half-hour question and answer period, that the ultimate choice will be Obama's very personal one.
Popular in the Community