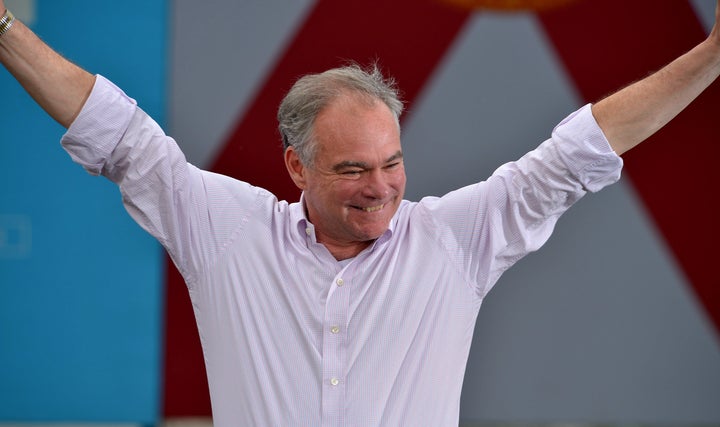 The Virginia senator's close friend Charles Hirschhorn detailed in a lengthy Facebook post Thursday what it was like living with his Harvard Law School roommate 35 years ago, recalling Kaine's quirks and triumphs.
Kaine made a "mean bowl of ramen," but he's never had the best fashion sense, Hirschhorn said in the post, titled "Full Disclosure: My Roommate is Running for VP."
"The human genome project would waste its time looking for vanity genes (jeans?) in Tim's DNA," Hirschhorn wrote. "He simply does not judge himself or anyone on their appearance. Thank goodness some campaign official had him destroy his do-rag collection."
But Hirschhorn recalled Kaine was not so good at cleaning the bathroom during the year they lived together, a bad habit he reaffirmed in an interview on MSNBC Friday.
"I wouldn't put him in charge of bathroom-cleaning," he told MSNBC, before adding, "but he's been a pretty good partner all along." 
In the post, Hirschhorn revealed that Kaine was just as clueless as everyone else when it came to dating, even when he met a fellow student who would become his wife, Anne Holton. 
"[Holton] shared his commitment to social justice," Hirschhorn wrote. "She began spending more time at the house and bringing over cookies. Tim was the last to understand where their relationship was heading. We would have told him earlier but we didn't want Anne to stop baking."
Service comes naturally to the Kaines, Hirschhorn said. When friends call, Kaine answers ― and when the voters call, Hillary Clinton's running mate will answer.
Hirschhorn said Kaine had long served as a role model for his children and a loyal ally to those who call on him.
"He's the best person I have ever met," he said on the post.
Hirschhorn isn't the first former roommate of a candidate to speak out during the 2016 election campaign, but the last time, the character assessment was less glowing.
Earlier this year, Craig Mazin launched a series of scathing attacks on Sen. Ted Cruz (R-Texas), then a candidate for the GOP presidential nomination, on Twitter. Mazin described his former roommate as "devious, hypocritical, unethical, pointlessly ambitious [and] valueless."
Calling all HuffPost superfans!
Sign up for membership to become a founding member and help shape HuffPost's next chapter
BEFORE YOU GO