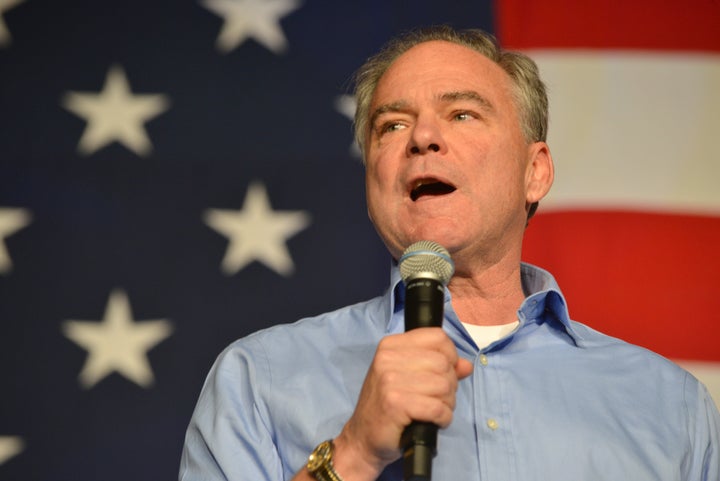 The Democratic presidential ticket this year has an asset in reaching out to Latino voters that others do not: vice presidential nominee Tim Kaine's knowledge of Spanish.
They're taking advantage of it. On Sunday, the Virginia senator and running mate of Democratic presidential nominee Hillary Clinton gave a speech entirely in Spanish at a Spanish-language church service ― a first for a candidate on a presidential ticket.
The next day, he appeared on the Spanish-language show "Noticias Telemundo" to attempt another appeal to Latinos, including by promising a push in the first 100 days of Clinton's presidency for immigration reform and a jobs package.
"Latino culture is one of the most important things in our country right now because we have had Hispanic roots since the beginning. ... Spanish was the language of our country before English," he said in the interview with José Díaz-Balart, according to a translated transcript.
"It's important to remember that, and celebrate it," Kaine continued. "And also, the issues important to Latinos are the same: education, economic development and, especially, respect. In this campaign the question of respect is very important, because the two sides of the campaign have very different opinions about the Latino community."
Latinos, particularly Mexicans and those of Mexican descent, have been the subject of much discussion during the current election, both as voters to win over and targets for attacks from Republican presidential nominee Donald Trump. The GOP nominee began his campaign by accusing Mexico of sending rapists and other criminals into the U.S., criticized rival and former Florida Gov. Jeb Bush for speaking Spanish and accused a U.S.-born federal judge of being biased against him because the judge's parents were from Mexico.
Clinton, meanwhile, has attempted to appeal to Latinos to the point of at times veering into "Hispandering." In addition to Spanish-language ads, her campaign has done advertising that blends English and Spanish, a nod to the fact that about 60 percent of English-speaking Hispanics in the U.S. speak Spanish as well. She is leading Trump significantly in polls of Latino voters.
"We want to make sure that our campaign is accessible to everyone and that we're meeting voters where we are," Clinton campaign Latino vote director Lorella Praeli said on a call with reporters on Tuesday.
Kaine, who learned Spanish while living in Honduras to volunteer with Jesuit missionaries, has frequently conducted interviews in the language. He is right about Spanish being an early part of U.S. history, although it was not the only language that was here before English. Spanish colonizers first brought their language to the area known today as the continental United States in the 16th century, founding the settlement of St. Augustine in modern-day Florida in 1565 and exploring much of the country's Southwest and California.
That legacy is visible in the Spanish names of many of our states ― Nevada, Florida, Colorado ― as well as a host of loan words that Americans now commonly use in English, like bodega, mustang or ranch. But even well into the colonial period, it was more likely that those living in America would speak one of the region's roughly 300 indigenous languages, rather than Spanish or English.
"When I'm at an event with people I want to speak their language and, especially, listen to them in their own language," Kaine told Díaz-Balart.
Watch the interview in Spanish:
Calling all HuffPost superfans!
Sign up for membership to become a founding member and help shape HuffPost's next chapter
BEFORE YOU GO