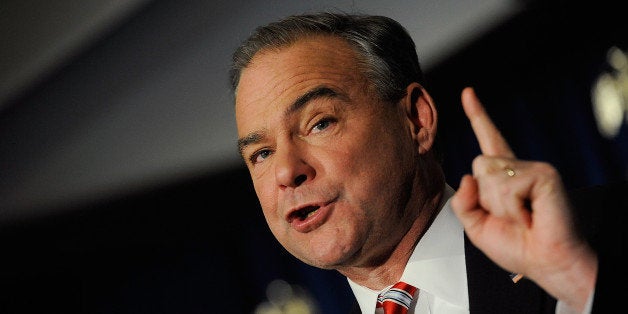 WASHINGTON -- Sen. Tim Kaine (D-Va.) said Thursday that members of Congress haven't "earned the right to be critics" of President Barack Obama's strategy for defeating the Islamic State because they haven't taken the time to debate or vote on authorizing the war.
"Congress has been a spectator," Kaine said during a Senate Armed Services Committee hearing. "There's not been a declaration of war. There's not been an Authorization for Use of Military Force. There's been no House committee action. There's been no House floor debate or vote. There was one Senate committee vote in the Senate Foreign Relations Committee in September, but there's been no meaningful floor debate and no meaningful Senate floor action."
He added, "We really haven't earned the right to be critics as long as we stand back and don't do the one thing that Congress is supposed to do."
It's been nine months since the U.S. began bombing the terrorist group, also known as ISIS, without new congressional authorization. The Constitution requires Congress to declare wars, but in this case, Obama has said he doesn't need lawmakers' sign-off because a sweeping 2001 AUMF covers his actions. Lawmakers in both parties disputed that point for months, so Obama sent them a new, ISIS-specific AUMF proposal in February, saying he welcomed their vote, even though he doesn't think he needs it.
Nothing has happened since.
Democrats say Obama's proposal is too broad, Republicans say it's too restrictive and their differences have given way to complacency. Meanwhile, the war has continued with no parameters placed on its duration, cost or endgame. To date, the U.S. has spent more than $2.1 billion fighting the Islamic State, participated in more than 3,700 airstrikes and sent roughly 3,000 military personnel to Iraq.
The White House has been on defense this week over its strategy for toppling the Islamic State. Last week, the terrorist group captured the city of Ramadi in Iraq, and in recent days it has almost entirely seized control of the Syrian town of Palmyra. Republicans on Capitol Hill have been lining up to criticize Obama's military approach.
But Kaine said Thursday that as long as lawmakers keep avoiding a debate over the new AUMF, they have no business condemning Obama's current mission.
"There is no evidence that Congress is concerned at all about [ISIS]. None," Kaine said. "How strange it is we're in a Congress that loves to punch this president as an imperial president and threaten lawsuits against him when he does stuff without congressional approval. In the most solemn responsibility under Article I that Congress has, we have been silent."
The reality is that most lawmakers don't want anything to do with a new war authorization vote, for fear that if something goes wrong, their fingerprints will be on it. If they do act, they'll have to overcome three main points of dispute: how to use U.S. ground troops in the battle, if at all; how to define what the mission is, given Syria's ongoing civil war; and what to do with the 2001 AUMF. Some Democrats want to repeal the earlier authorization entirely, on the grounds that it's too broad and wasn't intended to apply to a war being waged 14 years in the future. Republicans are loathe to do anything that would rein in the president's war authority.
House Speaker John Boehner (R-Ohio), who hasn't done anything to make an AUMF vote a priority, said earlier this week that Obama should just take back his war authorization proposal because Republicans don't like the one he sent.
"The president, frankly, should withdraw the Authorization of Use of Military Force and start over," he told reporters.
House Minority Leader Nancy Pelosi (D-Calif.) said Thursday that Boehner's remarks made no sense. In the nine months since the war began, she said, Republicans first used the excuse that they didn't want to vote on a new AUMF until the new Congress began, and then argued they wanted a draft proposal from the president. Then, when they got it, they said they didn't support his strategy. Now they want a new draft.
"How could it be that all of this is happening and Congress has refused to have this conversation on the floor of the House?" Pelosi said at her weekly press conference. "I think the ball is definitely in our court to take up this issue and to make some decisions as to how we go forward ... It's long overdue."
Before You Go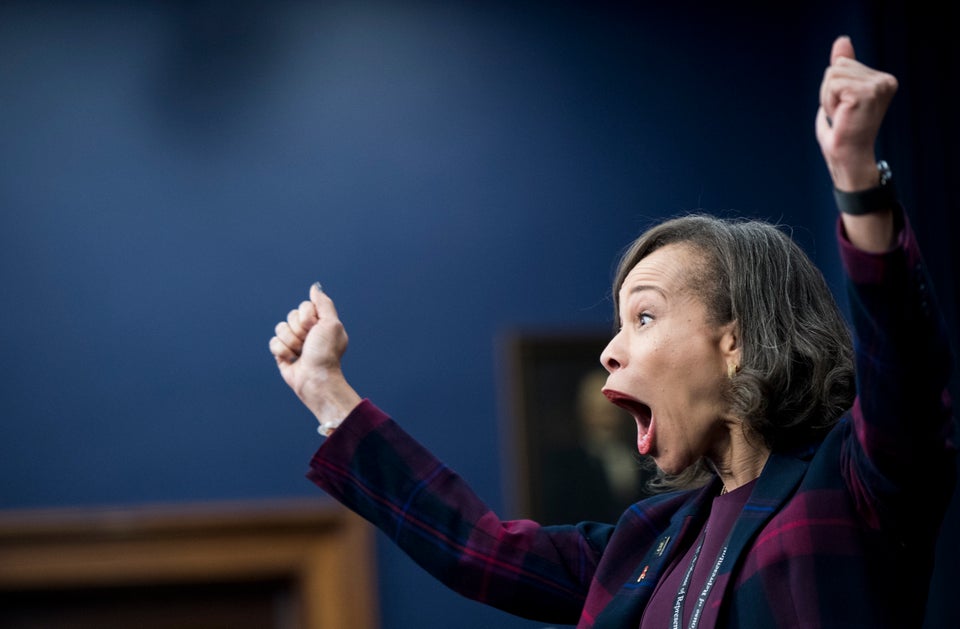 Scenes From 114th Congress And Capitol Hill
Popular in the Community