If you stole an Amazon package of K-Cup coffee pods from Tim Lake, you aren't getting away with it -- at least, not without being mocked relentlessly.
Friday afternoon, a security camera at the 29-year-old's Arcadia, Ariz. home captured an unidentified woman waltzing into his yard and making off with the package. Lake learned about the incident later that night, and got to work making up a flyer that he hoped would help catch the perp.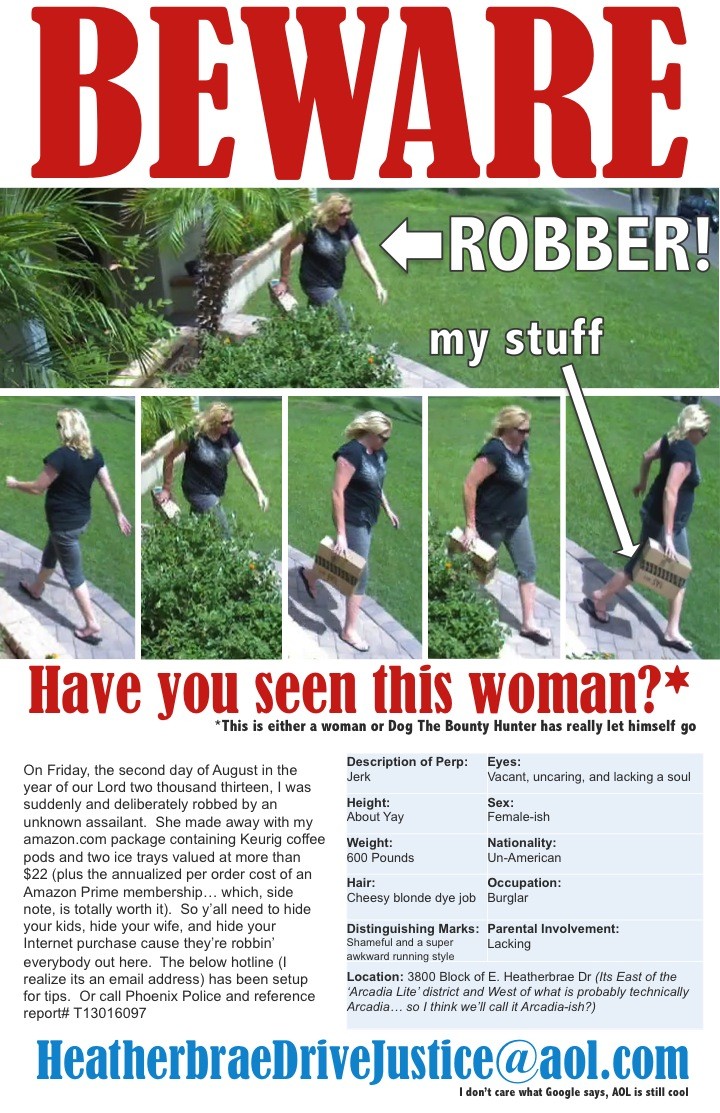 The flyer, which notes that the culprit "is either a woman or Dog The Bounty Hunter has really let himself go," lists the package snatcher's nationality as "Un-American," her distinguishing marks as a "shameful and super awkward running style" and her weight as "600 pounds."
Lake told HuffPost Weird News that he "actually felt kind of bad about the weight comment," but added, "then I figured if you steal from me, I have the right to make fun of you."
So far, he hasn't received any helpful tips, but says that his neighbors have been "really supportive" and the flyers have actually led to him making new friends in the neighborhood.
While the theft left Lake out $22, he says that the national attention the flyer has received makes it "worth it for the entertainment," and that Green Mountain Coffee has mailed him a replacement batch.
But will he be getting that package mailed to his home?
Lake told HuffPost Weird that in spite of the theft, he's going to keep getting packages delivered to his home, even though there's a UPS center a five-minute drive away.
"If I have to drive to pick up my packages," Lake told HuffPost, "the terrorists have won."
Calling all HuffPost superfans!
Sign up for membership to become a founding member and help shape HuffPost's next chapter
BEFORE YOU GO