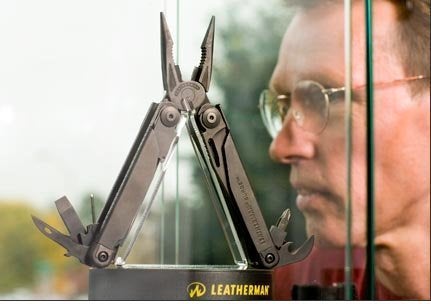 While there are many knives on the market, most lack a key component: pliers. That's why Tim Leatherman's invention, which features pliers through its innovative butterfly-like design, became the most popular multi-tool in the world. Today, Leatherman Multi-Tools have found their way into tool drawers around the world, as well as in pop culture, having been featured in TV shows like CSI and Survivor and movies like Speed and The Hurt Locker. The company employs more than 300 people and boasts annual revenue of more than $80 million.
While Leatherman, now 62, is recently semi-retired, having shifted from CEO to chairman, he remains proud that his company is one of the dwindling number still doing most of its manufacturing in the United States. And to think, all this began with a broken-down Fiat in Amsterdam.
"Growing up, I did not have a strong interest in tools, making things, or inventing. That continued through college, even though I earned a degree in mechanical engineering. My first job after college involved sitting at a drafting table in a large room with about 300 other engineers and designing piping systems for oil refineries. I worked for a year and never went to a real oil refinery. I didn't last long there.
"When I was in college, I fell in love with a woman from Vietnam. After quitting my job, I followed her there in 1972. I was one of the few Americans of my generation to pay his own way to get to that country.
"Once there, we got married, and I started teaching English to earn money. One of my fellow teachers, who seemed to me a bit of a klutz, said that motor scooters were really quite simple, which shamed me into becoming interested in how things worked.
"Eventually, as the situation within the country began to deteriorate, I left with my wife and her family. After getting her family settled in the U.S., my wife and I decided to take a budget trip to Europe. We ended up staying for nine months. We bought a used Fiat in Amsterdam for $300. It broke down constantly. I was carrying a Boy Scout-type knife, but often needed pliers. One day, the idea came to me: add a pair of pliers to a pocket knife.
"I knew the Swiss Army Knife had been around for about 100 years, and it was a beautiful product. They were flawless multipurpose knives with blades and screwdrivers and scissors -- but no pliers.
"When we got back home to the U.S. in 1976, I asked my wife if I could build a prototype. She asked how long it would take. I said maybe a month. So, she went to work to support us, and I went into the garage with a file and a hacksaw to build the vision I had in my mind. It actually took me three years to finish a prototype I liked.
"I filed for a patent. Once I received my patent, I thought, like most inventors do, that I would just go to a big company, show them what I made, and they would pay me a million dollars. The problem was that, when I took my model to the knife companies, they called it a tool; the tool companies thought it was a gadget, and said gadgets don't sell.By Darren Dahl
"Four more years passed. My friend from college days, Steve Berliner, had been following my (lack of) progress. It became apparent to us that to get my tool to the market, we would have to make it ourselves. We formed a business partnership. We searched for a customer who would order enough tools to justify production. No luck.
"However, one prospective customer, the Early Winters catalog, suggested changes to make the tool less complex. I made a new prototype. Finally, in 1983, eight years after I started, we got an order from the Cabela's mail order catalog for 500 tools. We decided to go into production.
"Steve's dad had a metal working business, and he agreed to let us move my equipment from my garage to his shop and to use his equipment and employees on a subcontract business. We had $18,000 in capital.
"While we were starting production, Early Winters called and placed an order for 250 tools. Two days after Christmas that year, before we had even shipped them any tools, they called back and placed an order for another 500 tools. A week later, 750. Two weeks after that, another 1,000. They and our other customers were selling them as fast as we could make them.
"Turns out that we had created a new market segment. There was this huge latent customer base that was just waiting for a tool like the Leatherman. We started getting letters that said, "Thank you, where have you been all this time?" By 1993, just 10 years later, we were selling more than 1 million tools a year."
The original version of this article appeared on AOL Small Business on 5/17/10.
Related
Popular in the Community