Country music star Tim McGraw collapsed on stage Sunday night during a performance in Ireland, Rolling Stone reported.
Faith Hill, one of the most successful country artists of all time and McGraw's wife, was also performing at the event. She later reassured worried fans about McGraw's condition.
"He's been super dehydrated," Hill said in a clip posted on an Instagram fan page. "I apologize, but I made the decision that he cannot come back out on stage."
Fans cheered and chanted, "Get well, Tim!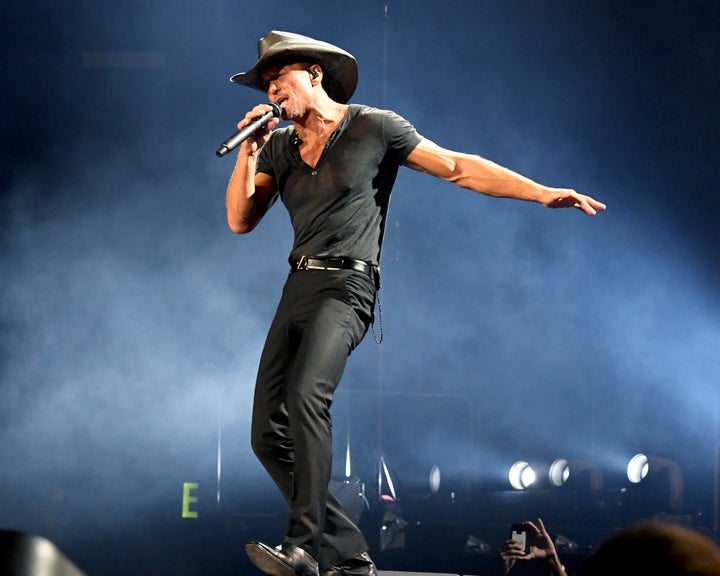 In clips from earlier in the show, McGraw, 50, showed no hint of the trouble to come. Reports on social media said he fell to his knees at the end of the song "Humble & Kind," and had to be helped off stage.
Hill also told the crowd that the whole band had been suffering from dehydration as a result of their hectic travel schedule.
McGraw and Hill were participating in Country to Country (C2C), a three-night country music festival in London, Glasgow and Dublin, where the main acts play all three cities, each headlining on different nights.
McGraw, who has sold more than 80 million records worldwide and is best known for the hits "Just To See You Smile" and "Live Like You Were Dying," has won three Grammys and a host of other accolades, including 11 CMA Awards. He and Hill have also recorded a number of duets, including the chart-topper "It's Your Love."
In addition, McGraw works as an actor, appearing in films such as "The Blind Side," "Friday Night Lights" and "Tomorrowland."
Popular in the Community