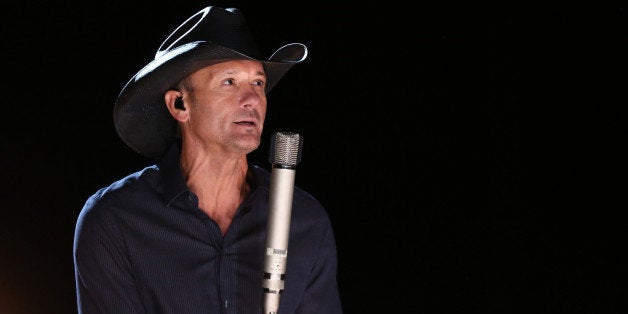 Tim McGraw is defending himself and his personal values after gun advocates lambasted the country singer for taking part in a concert commemorating the Sandy Hook Elementary School shooting.
On Monday, it was announced that McGraw will headline "A Concert for Sandy Hook Promise" on July 17 in Hartford with Billy Currington and Chase Bryant, who are joining him on his Shotgun Rider Tour. Proceeds will go to Sandy Hook Promise, an organization set up in the wake of the 2012 massacre with the aim of ending gun violence. Dean Brown, who plays the fiddle in McGraw's touring band, is a friend of the group's director, whose son was one of the Sandy Hook victims, according to NBC News.
"Sandy Hook Promise teaches that we can do something to protect our children from gun violence," McGraw said in a statement shared by NBC. "I want to be a part of that promise – as a father and as a friend."
After the announcement, however, gun advocates spoke out against the country singers for supporting a group associated with gun control. Bob Owens of BearingArms.com noted that the move would not sit well with McGraw's fanbase, which "overwhelmingly supports gun rights, and views a concert benefiting Sandy Hook Promise as being a betrayal."
"Let me be clear regarding the concert for Sandy Hook given much of the erroneous reporting thus far," he told Fox News. "As a gun owner, I support gun ownership. I also believe that with gun ownership comes the responsibility of education and safety – most certainly when it relates to what we value most, our children. I can't imagine anyone who disagrees with that."
As for Currington, he pulled out of the gig.
REAL LIFE. REAL NEWS. REAL VOICES.
Help us tell more of the stories that matter from voices that too often remain unheard.