Yet Mooney is the unlikely figure behind a pair of under-the-radar ballot initiatives to legalize same-sex marriage in Arizona and Florida. The campaigns, called Equal Marriage Florida and Equal Marriage Arizona, began in June, just before the Supreme Court announced its landmark ruling on same-sex marriage.
In recent months, as word of these efforts has spread through the gay rights community, veteran strategists have responded with suspicion and alarm, and have declined to lend their support.
In interviews with The Huffington Post, a dozen gay rights advocates noted that same-sex marriage remains unpopular among some demographic groups in both Florida and Arizona. They argued that the time is not yet right to bring the issue to a vote in those states, especially without enlisting the broader gay rights community to build support among voters.
Some advocates go further, suggesting Mooney's campaigns are aimed at draining resources from gay rights groups, or at opportunistically profiting from the gay rights movement's momentum.
Mooney, who serves as a consultant on both campaigns, declined several requests for an interview with The Huffington Post.
Those involved with Florida and Arizona campaigns questioned the strategic wisdom of veteran gay rights leaders who don't embrace the efforts. "I've always been of the opinion that the best way to get this passed in Florida is with a strategy that will target not just LGBT and Democratic support, but also the moderate Republican voter," said Vanessa Brito, a self-described personal friend of Mooney who runs the campaign in Florida.
Mooney set the campaigns in motion after securing an endorsement from Gary Johnson, the libertarian nominee for president in 2012. Johnson, a former New Mexico governor, is a longtime supporter of marriage equality.
Johnson had already been considering getting involved with a ballot campaign when Mooney began his efforts, Johnson's spokesman, Joe Hunter, said. "We decided that Arizona was certainly a place where there was support and it would be worth pursuing and the same with Florida," Hunter said.
But most gay rights advocates said they see it differently. Marc Solomon, the national campaign director of Freedom to Marry, a leading advocacy group devoted to legalizing same-sex marriage, is among the dozens of veteran gay rights advocates who have expressed skepticism about Mooney's strategy.
"We want to be involved in every kind of marriage campaign that results in a victory," Solomon said. "From our vantage point, the first step is to demonstrate a clear pathway to victory."
Republican gay rights advocates also questioned the campaigns' prospects. The American Unity Fund, one of the largest Republican-led efforts to legalize same-sex marriage in the U.S., is still evaluating the chances for success in ballot initiatives. "We're really assessing what timeline and what approach is going to be most effective," said Jeff Cook-McCormac, a senior adviser at American Unity Fund.
In both Arizona and Florida, gay rights advocates lost badly at the polls as recently as 2008. In Florida, the path to victory seems especially fraught. To amend Florida's constitution, which currently defines marriage as between a man and a woman, more than 60 percent of Floridians would have to vote in favor of legalizing same-sex marriage. No marriage campaign in the country has managed to secure such a high percentage of support for a ballot initiative.
In the U.S., those who support same-sex marriage still make up significantly less than 60 percent of the population, according to polls. In Florida, just 38 percent of respondents expressed support for legalizing same-sex marriage, according to a survey conducted in March.
Same-sex marriage is more popular in Arizona, and the percentage of voters required to amend the constitution is lower than in Florida. Even so, experts said the Arizona effort is unlikely to succeed without the backing of the broader gay rights community and the deep pockets of those who have helped finance successful campaigns in other states.
"In order to win a ballot measure campaign, you have to be smart and strategic," Justine Sarver, executive director of the Ballot Initiative Strategy Center, a progressive group specializing in ballot initiatives, wrote in an email about the two campaigns."In this case, that means working with the national and local groups who have experience winning marriage campaigns."
Hunter acknowledged the challenges. "We absolutely recognize that Florida is difficult and it may be a longer-term effort rather than shorter-term," he said. "But you have to begin the effort." Hunter added Mooney hails from Arizona and the team consulted people from both Arizona and Florida before filing paperwork and starting the campaigns. National and local gay rights groups said they were informed of the Florida and Arizona campaigns only after paperwork had been filed.
Erin Ogletree Simpson, the volunteer co-chair of the Arizona campaign, said it's been "a bit frustrating" dealing with local lesbian, gay, bisexual and transgender groups in Arizona. "There's been some surprise and some mistrust and that, to me, has dealt more with territorial issues than anything else and I think that's disappointing," she said.
Simpson is a newcomer to the LGBT scene. A retired attorney who works part time as a firearms instructor, Simpson said she came to the realization that she was gay a year and a half ago. Soon after that, she joined a local chapter of Log Cabin Republicans, a gay rights group, which led to her involvement with Equal Marriage Arizona. Since June, Simpson said, Equal Marriage Arizona has collected around 9,000 signatures and more than $100,000 in donations. Half of the donations came from Our America, Johnson's political action committee.
Simpson said she believes a conservative-backed campaign may be the best bet to win same-sex marriage for Arizona, "I was hoping that the response would have been more an immediate enthusiasm, but I do believe we're getting to that point," she said, adding that the campaign is gaining traction with the broader gay rights community.
In Florida, 11 local LGBT groups have issued a statement arguing that a failed referendum there would hurt the same-sex marriage movement in the U.S. "We are writing to clarify that our organizations are not affiliated with the recently declared efforts to put a marriage amendment on the ballot in 2014," the statement says. "We believe that the timing is premature, because the intensive work that would make victory possible has not been done and that a failed effort would set us back at a time of tremendous momentum."
"Clearly, Florida is a really heavy lift," said one Republican strategist sympathetic to the issue who asked not to be named. "When you see suggestions like that coming forward, it's hard not to question either their understanding or their motives."
Gay-rights advocates who have met with Mooney said he professes a change of heart since leading the battle against same-sex marriage in Utah in 2004.
Not everyone believes him. One national strategist, who asked not to be named, described Mooney's sudden interest in gay rights as a "recipe for mistrust."
"Who is this guy?" the strategist asked. "He came out of nowhere."
Andrew Koppelman, a professor of law and political science at Northwestern University, said he wasn't surprised at the skepticism, given Mooney's background. "One of the basic rules of a stealth organization is that when a reporter calls you asking what you're doing, you do not return the phone call," Koppelman said.
Mooney is no stranger to covert maneuvers. In Texas, he organized a campaign to put the Green Party on the gubernatorial ballot in order to split the Democratic vote, contributing to Perry's victory.
Koppelman questioned whether Mooney's latest maneuver is another disguised attempt to sabotage opponents. "Is this just going to suck up money on the left?" he asked, before suggesting that the campaign may also aim to bring out more Republican voters. "It's clear that this is an issue that has in the past helped to mobilize the Republican base," Koppelman said. "That has got to be on the mind of any smart Republican strategist."
As momentum grows for the gay rights movement, concerns about people who would like to profit from that success grow, too, said Fred Sainz, vice president of communications and marketing at the Human Rights Campaign. "One of the concerns that activists are always going to have is whether or not an individual has a profit motive and will put their profit above the good strategic best interest of our movement," he said.
CORRECTION: This article originally misidentified the American Unity Fund as the American Unity Political Action Committee.
Before You Go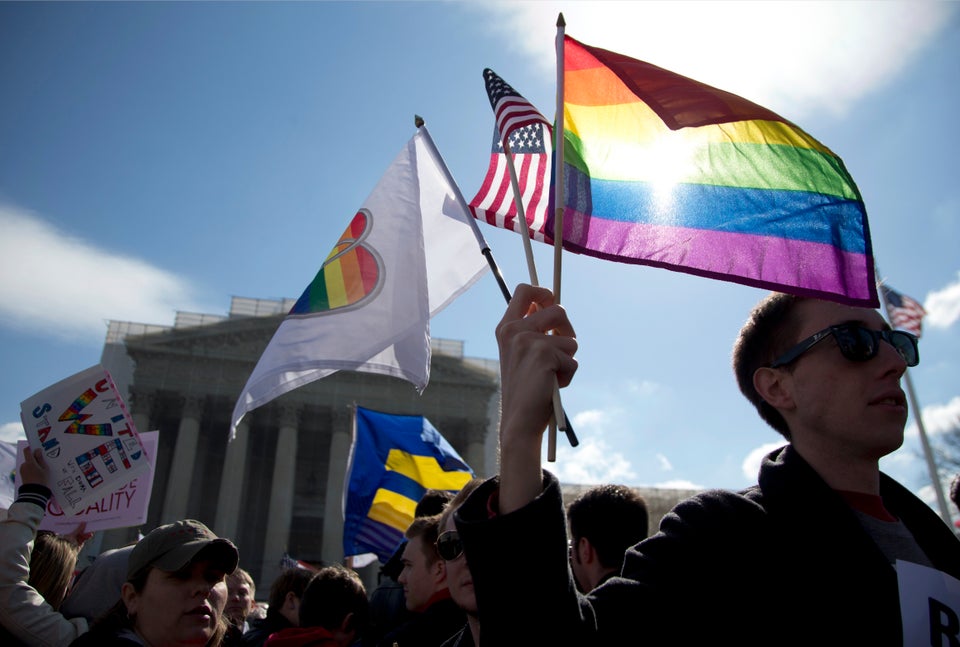 Supreme Court Proposition 8 Case
Popular in the Community