I first wrote about contemporary painter Tim Okamura in 2013. He had two solo exhibitions that year, This Story Has Not Yet Been Told...The Work of Tim Okamura, a retrospective of more than 10 years of paintings, and Depicted/Connected: Paintings. Both shows illustrated his highly skilled, elaborate and fascinating ability to use portraiture to tell a story.
Okamura describes his artwork as "investigating identity, the urban environment and contemporary iconography through a unique method of painting -- one that combines an essentially academic approach to the figure with collage, spray paint and mixed media."
The native of Edmonton, Canada earned a B.F.A. with Distinction at the Alberta College of Art and Design in Calgary, Canada before moving to New York City to attend the School of Visual Arts in 1991. After graduating with an M.F.A. in 1993, he permanently relocated to Brooklyn.
Since then he's been using his creations as a medium to share positive stories. You may have seen Okamura's artwork featured in films, including Prime, School of Rock, Pieces of April and Jersey Girl.
His paintings are filtered through the lens of his personal experience as someone of Japanese and British heritage growing up in area that was not diverse. Through his artistic process, Okamura discovered a welcomed challenge of telling the stories of women of color, which he believes should be represented in the art world. He searches for the inner strength in all of the women he paints. When you see his large-scale creations up close, you can feel the strength and vitality.
One of Okamura's portraits, "I Love Your Hair," was selected for "The Outwin 2016: American Portraiture Today," an exhibition resulting from the Outwin Boochever Portrait Competition. The juried exhibition, which opened March 12 at the Smithsonian's National Portrait Gallery in Washington, D.C., consists of 43 artists' works.
Okamura is also an artist-in-residence at the Redbird Gallery located at 72 Gansevoort Street in Manhattan's Meatpacking District. The gallery was launched in 2014, and has been building it's programming incrementally.
I asked the painter about his involvement in both projects.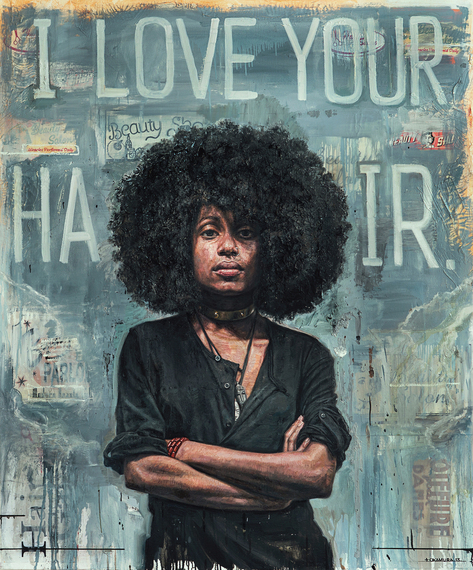 "I Love Your Hair," oil and collage on canvas, 60 x 72", 2013. (Photo provided)
Q. How was your work selected for "The Outwin 2016: American Portraiture Today"?
A. Getting into the exhibition was a long process. After my initial submission was selected for the second round of judging the National Portrait Gallery picked up the painting from the collectors who own it in Miami, Jerome Soimaud and Karla Ferguson-Soimaud (Yeelen Gallery), and transported it to Washington, D.C. last summer. There were many luminaries on the judging panel, including renowned critic Jerry Saltz, and MOCA Los Angeles Chief Curator Helen Molesworth, so it was truly an honor to be selected to be a part of the show.

Q. What is the inspiration behind "I Love Your Hair"?
A."I Love Your Hair" was fairly straightforward in its initial concept but I think it ended up taking on several meanings as it developed, and I'm very happy about that. I've been representing a lot of women of color in my work over the last decade, and an important facet of my portrayals of many of these women has been hairstyle -- often natural hairstyles that I found very striking and beautiful on an artistic level but that also clearly resonated as an integral means of self-expression.
Obviously I think this is true of everyone, but it's incredible to observe how much emotional reaction a hairstyle can elicit. For me, the Afro in particular is extremely powerful -- especially in regards to the African-American community as it pertains to pride, politics, and consciousness -- and I have so much respect for what it can mean on that level.
But also as a painter, I really love how stunning an Afro can look if properly captured on canvas and this too was part of the initial impulse of the title, "I Love Your Hair."
Additionally, as I worked on the painting I came to reflect more on the history of this country, and the Civil Rights Movement, and some of those thoughts are communicated in the collaged elements in the background of the painting -- old advertisements for hair salons from the 1950s and 60s that were clearly aimed at a very different demographic. I wanted to emphasize the contrast between the mindset associated with that period in time, and where we are at now.
Finally, and perhaps most importantly, I had chosen my beautiful friend and well-known social media personality, Yagazie Emezi, to pose for the piece -- and literally any time we would hang out during the process of making the work people would approach her and exclaim "I love your hair!," so I had confirmation the idea for the painting was being signed off on by a higher power. Such a cool experience!

Q. How do you feel about your work being included in the exhibition?
A. I'm so excited to have this work included in the exhibition. I think it's one of the more important pieces I've created in my career so far, and to have it exposed to a really large audience is so gratifying. After the exhibition's run at the National Portrait Gallery in Washington, D.C. it will go on tour to museums around the country. As an artist, you can't really ask for more than that, so I'm extremely grateful.
Q. How did your residency at the Redbird Gallery in New York City come about?
A. The owner of the gallery, Phoenix Eisenberg, saw a solo show I did at the National Arts Club in 2014, and basically was keeping track of my work from that point. He got in touch with me in summer of 2015 to discuss the idea of the residency. I was able to move into the Redbird's studio for artists in the beginning of January.
Q. What pieces are you working on there?
A. I moved most of the work I had in progress or had recently finished over to the residency, with the intention of finishing or re-working several paintings. But I also thought it was a great opportunity to start my Samurai Women Warrior series, which has been really enjoyable to get under way and get early feedback on.
My time at the Redbird Artist Residency has been incredible. The gallery is located on Gansevoort Street, literally across the street from the Whitney Museum of American Art. A lot of the gallery's focus has been on street art and graffiti, so it's been great to be able to bridge that sensibility with my work, and bring a slightly different flavor to the mix.
I have my own picture window in the front of the studio space, and have been rotating different paintings for public view. We've had open studio days on weekends, and the amount of foot traffic and cool people from around the world that I've been able to meet has been awesome.
Being able to interact with a broadly ranging audience, and getting such a positive response to the work has really contributed to such a valuable experience for me.
Tim Okamura's art is on display in the permanent collections of the Davis Museum at Wellesley College, The Alberta Foundation for the Arts, the Toronto Congress Center, the Hotel Arts in Calgary, Canada, and Standard Chartered Bank in London, England. Celebrity collectors include Uma Thurman, musicians John Mellencamp, Ahmir "Questlove" Thompson (The Roots), director Ben Younger, as well as actors Bryan Greenberg, Vanessa Marcil, Annabella Sciorra, and Ethan Hawke. To learn more, visit his website.

Popular in the Community