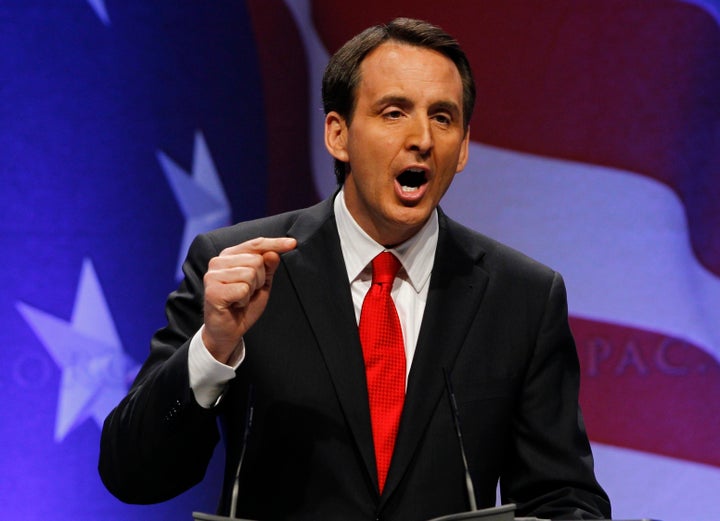 How does one further lower the taxes of Bank of America? Give them additional taxpayer money? (Actually, that's basically what we're doing for everyone in the International Order Of Bailed-Out Banks Local 212.)
FANG: Governor, today liberals are demonstrating all over the country in what CBS has called a liberal version of the Tea Party. Their main complaint is that a lot of corporations aren't paying their fair share. For example, Bank of America, in 2009 paid nothing in corporate income taxes, same with ExxonMobil, GE, and a lot of other big corporations. Do you think corporations like Bank of America should pay their fair share? What are your thoughts on that?

PAWLENTY: Well actually the corporate tax rate in Minnesota and around the country is too high. And I think one thing we could and should do is-

FANG: You think zero is too high with Bank of America paying nothing?

PAWLENTY: We have the highest corporate tax rate, or one of them, in the world-

FANG: But they use loopholes and offshore bank accounts to pay nothing.

PAWLENTY: The things I've called for is reducing tax rates and looking at exemptions or special deals within the tax code that give certain companies privileges or benefits. I can't speak individually to any country, company would get in that regard, but I think one goal or direction is to simplify and reduce tax rates and clean out as many of the special deals as possible.

FANG: To be clear, do you think Bank of America pays too much in taxes already?

PAWLENTY: I don't know what Bank of America pays in taxes. I'll just say, setting aside Bank of America, the corporate tax rate in America is too high compared to our competitor nations.
I love that last part, where Pawlenty says, "I don't know what Bank of America pays in taxes." Dude! He just told you what they pay!
Can America afford to have the guy from Memento running the country?
Calling all HuffPost superfans!
Sign up for membership to become a founding member and help shape HuffPost's next chapter