Former Minnesota governor Tim Pawlenty is kicking off his campaign for president on Monday, but is the political operation doomed just as it begins?
Kevin Hoffman at City Pages writes, "Pawlenty's presidential campaign is Dead On Arrival, according to his hometown newspaper."
The Republican hopeful's announcement ran on the St. Paul Pioneer Press' Obituary page on Monday morning. City Pages relays an image of how the publication played the news: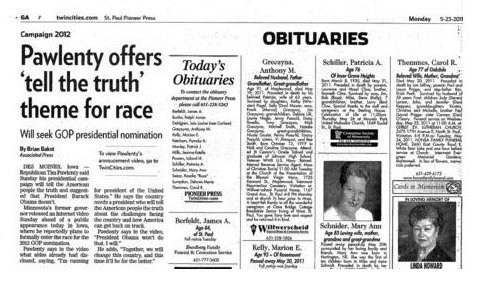 Pawlenty is formally declaring his candidacy at a town hall event in Iowa. In conjunction with the launch of his campaign, the former governor made appearances on multiple television programs on Monday morning, including NBC's "Meet the Press," ABC's "Good Morning America" and CBS' "The Early Show."
Here's a web video the Pawlenty campaign released on Sunday night previewing his official announcement.
Popular in the Community