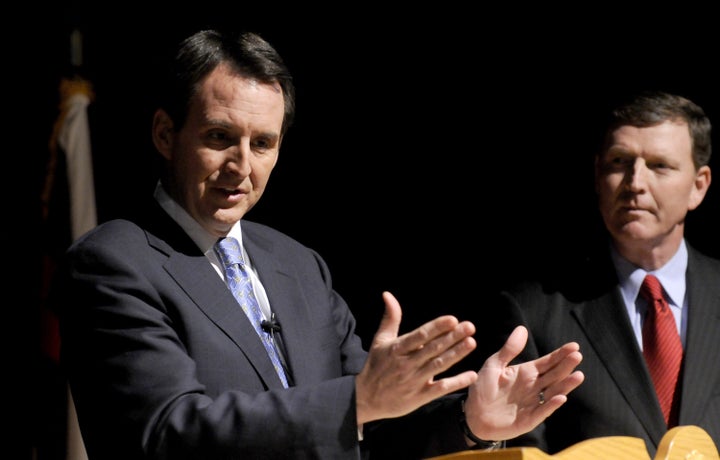 Potential presidential candidate Tim Pawlenty issued an apology on Monday for his past support for cap-and-trade legislation on the "Laura Ingraham Show."
"I've said, 'Look, I've made a mistake,'" explained Pawlenty of his position shift, according to Politico. "I think cap-and-trade would be a ham-fisted, unhelpful, damaging thing to the economy. ... It's misguided. I made the mistake. I admit it. I'm not trying to be cute about it. I just come out and tell you it was a mistake."
While speaking on the radio program, the former Minnesota governor also said that he's not the only one mulling a presidential campaign for the next election cycle that's changed his view on the issue.
"Everybody in the race, at least the big names in the race, embraced climate change or cap-and-trade at one point or another," he said.
And, it seems that Pawlenty is correct that he is not alone. TIME's Michael Scherer recently reported that several other potential presidential contenders could have some explaining to do on the campaign trail when it comes to the climate change issue.
...[Jon] Huntsman is far from the only 2012 GOP contender who will have to explain past support for confronting climate change on the campaign trail. In point of fact, carbon regulation was not so verboten in the GOP just a few years ago. Mitt Romney, Tim Pawlenty and Newt Gingrich all have supported efforts to combat climate change. "I also support cap and trade of carbon emissions," Mike Huckabee declared in 2007, while campaigning in New Hampshire. In the same year, then-Alaska Gov. Sarah Palin set up a "Climate Change Sub-Cabinet" to deal with the problem in her state. Of the major candidates now inching towards a run, only Haley Barbour can boast of a clean record of opposing carbon regulation, dating from Barbour's work as a lobbyist for heavily polluting energy companies.
As for Pawlenty's own shift in stance, the non-partisan Politifact noted back in 2009:
Back in 2007, Pawlenty was positioning himself as an environmental leader, pushing for aggressive reductions in greenhouse gases and a regional cap-and-trade plan.

Fast-forward to 2009, and he's writing letters to Washington calling a Democratic plan to curb climate change "overly bureaucratic, misguided" and "very burdensome on our economy."

...

Pawlenty grew his reputation as an environmental pioneer when he played a leading role in persuading members of the Midwest Governors Association to sign the Midwestern Regional Greenhouse Gas Reduction Accord, an agreement that the states would develop a cap-and-trade mechanism to achieve greenhouse gas reductions in the area.

The list of Pawlenty's climate change achievements goes on, including the Minnesota Climate Change Advisory Group, which he formed to study the impact of climate change and make recommendations for the state. You get the picture.
On Monday, Ingraham asked Pawlenty about a radio commercial from 2008 featuring his own voice along with that of Democrat Janet Napolitano, who was governor of Arizona at the time, urging congress to tackle climate change. In the clip played on air, Pawlenty said, "If we act now, we can create thousands of new jobs in clean energy industries before our overseas competitors beat us to it. So, come on congress let's get moving. Cap greenhouse gas pollution now."
After listening to the sound of his own voice, Pawlenty said, "Well anybody who's going to run for this office who's been in an executive position or may run has some clunkers in their records." He added, "Mine I think are fewer and less severe than most as to climate change or specifically cap-and-trade, I've just come out and admitted it."
Popular in the Community