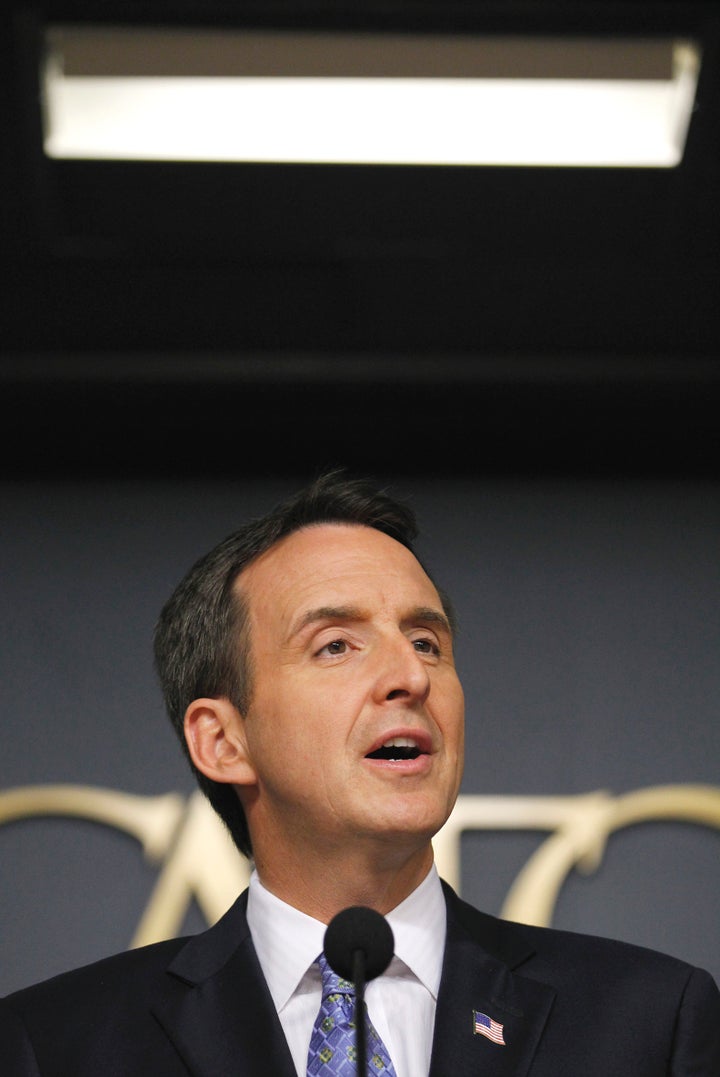 CHICAGO (AP/The Huffington Post) -- Republican Tim Pawlenty was set to propose an economic policy Tuesday that would simplify individual tax rates to just three options and cut taxes on business by more than half as he offered himself as a replacement to Barack Obama in the Democratic president's hometown.
"President Obama is a champion practitioner of class warfare," Pawlenty will say, according to advance excerpts. "He has spent three years dividing our nation, fanning the flames of class envy and resentment to deflect attention from his own failures and the economic hardship they have visited on America."
The former Minnesota governor also was to propose that any services available privately, such as the postal services or mortgages, should not be something government handles. He said he would require a vote in Congress to extend any regulation or he would cancel it. And he said he would eliminate taxes on investments and inheritances.
"But our policies can't just be about simply cutting rates. They must also promote freedom and free markets," Pawlenty said in excerpts provided ahead of the morning speech at the University of Chicago.
Pawlenty's speech, his first as a declared presidential candidate, also kept an eye on presidential politics and blamed Obama for an anemic economy. He said Americans are ready to innovate and create jobs, but "they have been discouraged and weighed down by President Obama's big government and heavy-handed regulations."
In a speech expected to be heavy on specifics, Pawlenty was ready to propose a three-tier income tax system:
_ The estimated 45 percent of U.S. households that did not pay income taxes in 2010 would see no change in their tax rates.
_ Individuals would pay 10 percent tax on the first $50,000 of income. Couples earning $100,000 would also pay that rate.
_ "Everything above that would be taxed at 25 percent," Pawlenty said.
He also wanted to cut business taxes, reducing the current rate from 35 percent to 15 percent.
Before the event, Pawlenty's Democratic successor in the Minnesota governor's office dismissed the proposals as the latest ploy from a politician who cares more about rhetoric than results.
"I think it's ironic that he's talking about a fiscal plan for the entire country when he left his state a mess," Gov. Mark Dayton said in an interview. "He decided he was going to leave and left it to his successor. They knew they were going to kick this down the road."
In speeches, including the one Tuesday at the university where Obama taught law, Pawlenty boasts that he balanced the Minnesota budget during his time in office although he fails to mention he left behind a projected $5 billion deficit.
Dayton said the cuts under consideration for the next two-year budget include cuts to special education programs, increases in college students' tuition and limited availability of home health care for seniors to offset the deficits.
When he announced his 2012 White House bid, Pawlenty promised policy details but kept his focus on rhetoric. He went to Florida to promise an overhaul of Social Security and Medicare, programs sacrosanct to the state's seniors. In New York, he told Wall Street a Pawlenty presidency would not bail out investors. And in Iowa he promised to phase out subsidies to corn-based ethanol, a deal breaker for many in a state that relies on those federal dollars for a way of life.
He pitched himself as a truth teller but was unwilling to offer specifics. Instead, he promised a series of policy announcements that would leave voters convinced he was a policy heavyweight.
Tuesday's speech was a first step toward that effort. Appealing to small-government conservatives, he suggested what he called "The Google Test."
"If you can find a good or service on the Internet, then the federal government probably doesn't need to be doing it," Pawlenty said. "The post office, the government printing office, Amtrak, Fannie (Mae) and Freddie (Mac) were all built for a time in our country when the private sector did not adequately provide those products. That's no longer the case."
And he proposed that taxes on investments, bank interest, stock dividends and inheritances should all be zero.
"Government has no moral or economic basis to claim a second share of the same income. When you deposit a dollar in your bank account, every penny should be forevermore yours and your children's, not the federal government's," he said.
Pawlenty is the second would-be GOP challenger to lay out a policy speech in Obama's hometown. Mississippi Gov. Haley Barbour also delivered a blistering economic speech here before he announced he would not join the Republican presidential field.
On Monday, former Sen. Rick Santorum of Pennsylvania declared he would seek the GOP presidential nomination. Last week, former Massachusetts Gov. Mitt Romney formally announced he would seek the White House for the second time. And before the end of the month, Rep. Michele Bachmann of Minnesota and former Utah Gov. Jon Huntsman were set to announce their next political moves.
A debate next week in early nominating New Hampshire stood to clarify the contest that is fast approaching its first test of organization: the straw poll in Ames, Iowa, set for August. Among the serious contenders, only Huntsman was expected to skip.
Popular in the Community