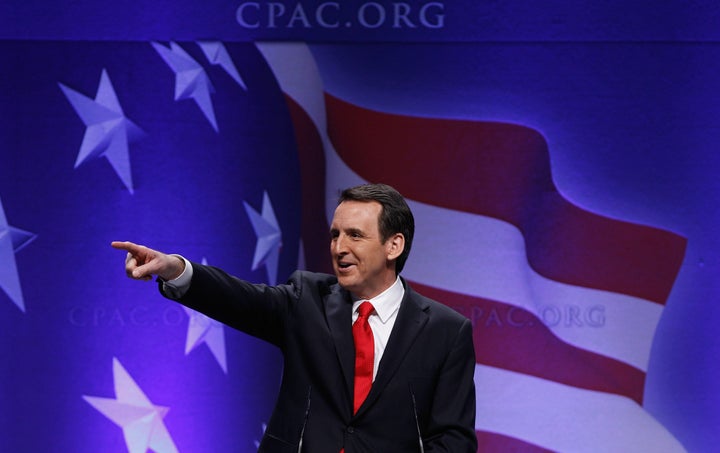 UPDATE: Former Minnesota governor Tim Pawlenty announced the formation of a presidential exploratory committee on Monday afternoon. The potential contender revealed his plans for the organization in a video posted on Facebook. Below, the original story that appeared here on Pawlenty's ambitions for 2012. (Scroll down to watch the video announcement.)
Former Minnesota governor Tim Pawlenty is expected to announce the formation of a presidential exploratory committee for 2012 at 3:00 p.m. ET on Monday, according to reports from multiple news outlets.
Pawlenty himself took to Twitter on Monday morning to alert his supporters that he would be posting a "special message" on his Facebook page later in the day. He did not elaborate further on the nature of what he would say.
The exploratory committee would clear the way for Pawlenty to raise money and hire campaign staff. It would require him to file formal paperwork with the Federal Election Commission.
Pawlenty, a conservative Republican who ran a Democratic-leaning state for two terms, has methodically moved toward a national campaign since announcing in 2009 that he wouldn't seek a third term. Since then, he stepped up his travel to early contest states of Iowa, New Hampshire and South Carolina, recruited Republican aides with presidential campaign experience, and courted GOP donors.
With the slow-to-develop GOP field, Pawlenty has made overtures to the fiscal conservatives and tea party activists whose top concerns are Washington spending and the national debt, as well as the social conservatives who oppose abortion and gay rights and hold sway in the leadoff Iowa caucuses. His efforts to appeal to a broad swath of the Republican Party signal that he's trying to cast himself as a candidate who every party member can back.
His biggest hurdle to the nomination may be that he's far less well-known nationally than other Republicans who are expected to run, former House Speaker Newt Gingrich and former Massachusetts Gov. Mitt Romney among them. His limited national profile -- despite being on GOP nominee John McCain's short list for vice president in 2008 -- may make it difficult to raise the millions of dollars needed to wage a credible campaign and build strong campaigns.
He enters a wide open field for the GOP nomination; no less than a dozen Republicans have said they are considering running for the chance to challenge President Barack Obama but there's no clear front-runner so far.
But his timing seems odd on a day dominated by international news. Coalition military forces are pounding Libya in support of rebels challenging Col. Moammar Gadhafi, and Japan is struggling to recover from a devastating earthquake, tsunami and nuclear crisis.
Pawlenty, 50, was raised in a Minnesota meatpacking town, the son of a truck-driving father and a mother who died of cancer when he was a teen. He worked in a grocery to pay his way through college.
He began his political career on a suburban planning commission and the Eagan city council. He spent 10 years in the Minnesota House, serving as majority leader before becoming governor in 2002.
Pawlenty styled himself as a no-new-taxes governor, swatting down bill after bill that boosted state taxes. He didn't take as hard a line on fees, and he consented to a 75-cent-per-pack "health impact fee" on cigarettes to end a partial government shutdown one year.
He signed legislation further restricting abortions and making concealed weapons permits more widely available, but social issues were hardly a centerpiece of his tenure. Pawlenty has added emphasis to his record on such issues as he moved toward a presidential run. His autobiography, released in January, was heavy on Bible references and traced his shift from being a Catholic to an evangelical.
Pawlenty still fits in the occasional pickup hockey game, as he did in New Hampshire recently while wearing a "T-Paw 12" jersey. He has a couple of marathon finishest, training alongside his wife, Mary. The couple has two teenage daughters.
Popular in the Community