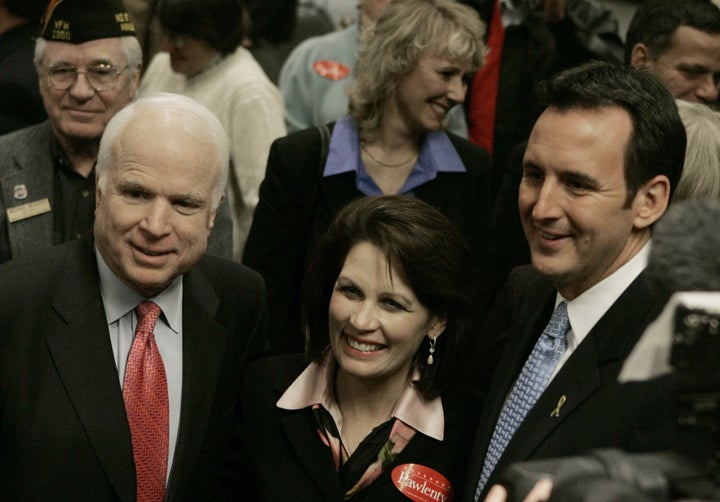 Former Minnesota Gov. Tim Pawlenty (R) isn't scared of the home-state competition that a potential presidential run from GOP Rep. Michele Bachmann could pose to him, but he does respect her as a conservative force, he said in a recent interview with the Des Moines Register.
"Congresswoman Bachmann is someone I have a cordial and positive relationship with," Pawlenty said at an Iowa book signing, according to the Register. "I don't know if she's going to run for president. If she does run, she'll be a strong candidate."
He shrugged off the question of whether there would be room enough for two Minnesotans on the ballot, however.
"I don't think people are going to decide because people are from the same state," Pawlenty told the Register. "They are going to decide for other reasons -- their experience, issues, record and lots of other important considerations."
Bachmann made waves earlier this month when ABC News reported that she was actively mulling a presidential bid. She's since visited the key primary state of Iowa to address a gathering of conservative constituents. She also took center stage amid some controversy last week when she delivered the Tea Party-sponsored, secondary Republican rebuttal to President Barack Obama's State of the Union address.
Pawlenty, for his part, has appeared to be more vigorously laying the groundwork for a potential presidential run. As the Register reports, he's been a regular in Iowa during the past 14 months, and has also "established an Iowa political action committee and lined up key Iowa advisers and national strategists with Iowa campaign roots."
Calling all HuffPost superfans!
Sign up for membership to become a founding member and help shape HuffPost's next chapter