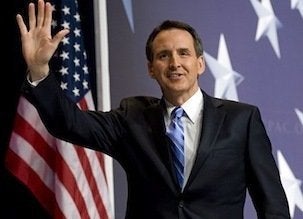 AP/Huffington Post - Minnesota Gov. Tim Pawlenty is likening the federal government to a drug dealer.
In an interview Thursday with Fox News' "Your World With Neil Cavuto," Pawlenty defended his order that seeks to limit his state's participation in the new health care overhaul law that makes available funds for states to try new medical models. The potential 2012 Republican presidential contender said it would be wrong to take the money.
"Instead of all just running around saying, 'We'll take the money because it's free money,' let's call it what it is: The federal government is basically a drug dealer trying to give out free samples, or give people a taste, get them further addicted," Pawlenty said.
"And I think we just say: 'No, thanks, we've had enough,' and get your own house in order, by the way, at the same time."
Pawlenty's order instructs state agencies to decline "discretionary" involvement with the federal law "unless otherwise required by law or approved by the governor's office." He said his office will determine whether federal funding would support state initiatives or create "new encroachments by the federal government."
The position helps his hopes should he run in 2012. Likely Republican primary voters overwhelmingly oppose President Barack Obama's health care overhaul, which is likely to be a central theme in the 2012 presidential race.
Pawlenty, who is not seeking a third term in the governor's office, hasn't announced if he will enter the GOP presidential primaries and caucuses.
"I'm going to announce whatever I'm going to do next sometime early next year," he told Fox News Channel.
Popular in the Community