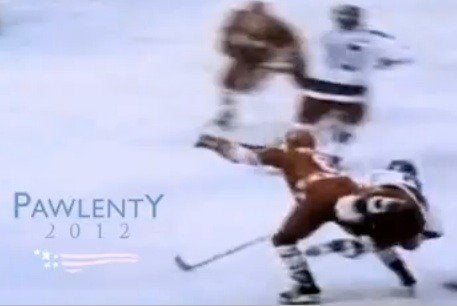 WASHINGTON - Tim Pawlenty is admitting in a new ad that he needs a "comeback" in the Republican presidential primary, adopting the 1980 USA hockey team as inspiration for a political "miracle."
Pawlenty, the former Minnesota governor, has failed to gain traction in the polls despite having been in the race longer than most other candidates and having constructed a top-rate campaign organization.
Now, heading into the Aug. 13 straw poll in Ames, Iowa, he needs a surprising win or second place finish to give him some momentum and a badly needed influx of fundraising cash.
On Wednesday night, the Pawlenty campaign released a 30-second TV ad titled "The American Comeback." But it's clear that the comeback in mind is not just the country's.
"You face an opponent experts say can't be beat," Pawlenty intones over images of the U.S. playing the Soviet Union in Lake Placid, N.Y.
Pawlenty is facing several opponents that detractors say he can't beat. The opinion polls right now support that view.
"To come back, we need a leader with a proven record, not just rhetoric," Pawlenty says in the ad.
That line is aimed primarily at Rep. Michele Bachmann (R-Minn.), the Tea Party favorite who has shot into the second slot in the primary behind Massachusetts Gov. Mitt Romney.
Bachmann is more of a threat to Pawlenty now than Romney, because much of the competition in the primary is to see who can outlast everyone but Romney, and then run the rest of the way as the best alternative to a front-runner who is disliked by many conservatives.
And Bachmann is especially popular in Iowa, a state where many of the most active Republican voters are conservative evangelicals who line up with her on many issues. Pawlenty has to win Iowa next winter when it kicks off the primary voting in order to have a chance.
The rest of the ad runs down Pawlenty's record in three bullet points, focusing on a showdown with unions, a government shutdown in Minnesota, and the overall idea that he "moved a liberal state in a conservative direction."
Pawlenty, who was a JV hockey player in high school, still plays as an adult and will continue the hockey theme Friday during a campaign stop in Urbandale, Iowa, where he'll play in a pick-up hockey game.
Calling all HuffPost superfans!
Sign up for membership to become a founding member and help shape HuffPost's next chapter