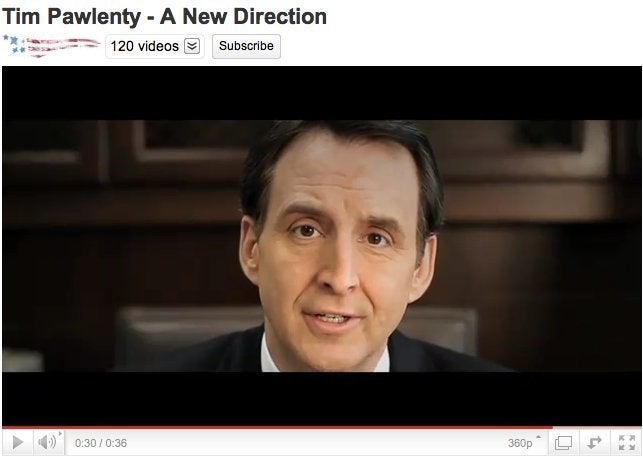 WASHINGTON -- Tim Pawlenty was quick to hit back at Barack Obama Monday after the president officially launched his reelection campaign.
And in what is becoming his favorite method of communication, Pawlenty responded by posting a cinematic video on YouTube. The former Minnesota governor and 2012 presidential hopeful mocked the slogan that the White House has used this year to reposition itself for the latter half of Obama's first term.
"How can America win the future when we're losing the present?" Pawlenty asks in the video, crafted by 22-year-old aide Lucas Baiano.
It begins with a "Matrix"-style slow-motion shot of people walking down the street, transitions to a picture of lightning striking over the White House, shows Obama uttering, "Time to win the future," then turns to displays of the country's tough economic situation: for-sale signs in front of homes, the national debt clock, gas prices, closed businesses.
New York Times columnist Paul Krugman gets a cameo too.
"Washington has given up on the jobs picture," Krugman says, in a line clipped from his appearance Sunday on ABC's "This Week."
The 35-second spot closes with Pawlenty saying, "In order for America to take a new direction, it's gonna take a new president."
The Iowa Democratic Party volleyed back at Pawlenty, calling the video "gloomy and pessimistic" and saying that the former governor had a "record of debt and failure in Minnesota."
"'Nighttime in America' is a lousy idea for a bumper sticker and an even worse idea of leadership," said Iowa Democratic Party executive director Norm Sterzenbach.
REAL LIFE. REAL NEWS. REAL VOICES.
Help us tell more of the stories that matter from voices that too often remain unheard.