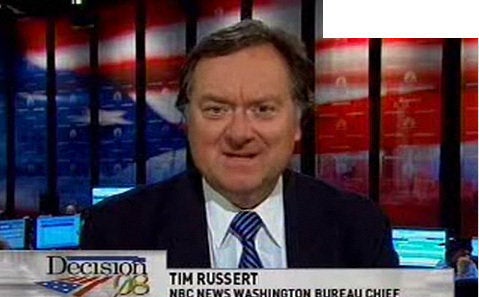 I grew up just outside a town of 7,000 people and as a kid I didn't know anybody who was a "somebody" outside our Northern California county except Tim Russert. I met Tim in 1987 when I was eleven years old, before he was on TV or well-known. My mom had been friends with Tim's wife, Maureen Orth, for decades, and we saw them in New York City before our family embarked on a car camping tour through New England. That night, Tim gave us an overview of New York city from the roof of their building, then treated my brother Christo (then nine) and me to root beers and asked us questions all night.
It would probably come as no surprise that I have never met anyone else like Tim. But, hearing others tell stories about him yesterday after such a sudden passing brought back so many similar memories. I am trying to process my shock and sadness and to honor the positive impact he had upon me as he did so many (even though I only saw him at most once a year), and, more importantly, the role he played for the country.
My memories during those early years were mostly that he was always interested in us kids. Tim and Maureen would come to San Francisco for Christmas most years and they would host a small gathering for their old friends from the area. All Tim would want to do was talk with the kids, including Christo, his son Luke, and me. Christo and I could never quite believe this, especially as Tim became more and more known (and we old enough to recognize it), but he always treated us with the utmost respect. He was genuinely curious and interested in our opinions and he really listened. He was also very open with us about what he really thought about a topic or a person (i.e. a particular Senator).
After I had gone back east to attend Bowdoin College, I took the train to Washington for a few days during spring break that first-year in 1995. I was 19 and had had a difficult year, struggling to adjust to the East Coast culture and trying to catch up with my better-prepared colleagues. Although it was still early in his tenure as moderator, Tim invited me to watch a live taping of Meet the Press. About 30 seconds before the program began, he held up his hand to block out the studio lighting to see if I had made it to my chair behind the camera. He then offered a slight wave before one final review of his notes and the show's opening music. Afterwards, he invited me on stage to meet the panel and participate in the group picture. The picture says it all: Tim, Brian Williams, me smiling in a "Cal" Berkeley hat, and Bob Novak.
After the show, as Tim drove me to the train, he asked me how I was doing at school and I told him how hard the adjustment had been. He said he remembered feeling the same way when he went to work for Senator Moynihan and was surrounded by Ivy League graduates. Then, he offered the same advice that Senator Moynihan had shared with him back then: "What you know, they'll never know, and what they know, you can learn." I carried that in my back pocket from there. Although I hadn't fully appreciated it at the time, Tim had become a great role model.
The last time I saw Tim was in the fall of 2006 when I was last in Washington and we went to Marcella's for dinner (his favorite Italian restaurant) with Maureen and another family friend. It was a somber time for the nation. An election was approaching and the country was growing increasingly divided about the war implementation. Tim initially showed signs of stress after a long week, but, as always, was extremely interested to hear our outside-Washington views.
Just before the check arrived, we paused for a rare moment of silence, ready for bed after a long week and meal. I then asked Tim how it felt to be in such a responsible position, knowing millions of Americans relied upon him for the truth. He listened intently, eyes glistening, and then he looked down at the table, deep in contemplation. It was as if there was a window into the idealism that was at his core. In the weeks that followed, his questioning was as strong as at any point in his career, and it is this ethic that America will miss most.
Tim Russert became American royalty to Washingtonians and regular Americans alike, and I will not be surprised if the nation mourns for him in a way that resembles the way people across England did Princess Diana upon her sudden death. Though he was not without his faults and was human like we all are, Tim made an authentic and indelible imprint on America's soul: one person, one question, one small gesture, and one action at a time.
That legacy is the mark of a selfless person and leader.

Peter Sims is the coauthor (with Bill George) of the Wall Street Journal and BusinessWeek bestselling book on leadership, "True North: Discover Your Authentic Leadership."
Calling all HuffPost superfans!
Sign up for membership to become a founding member and help shape HuffPost's next chapter