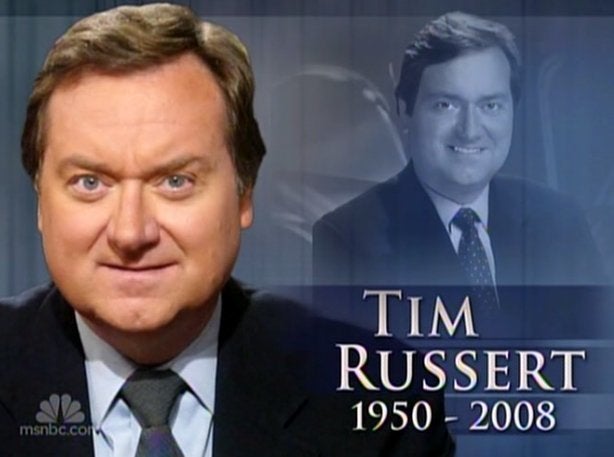 I tearfully watched Tom Brokaw and his colleagues provide the nation an extraordinary and wonderful celebration of the life of Tim Russert during this morning's Meet the Press tribute to its fallen host. I lost it a bit myself when Mr. Brokaw momentarily choked up during an especially personal moment in the program.
Tim was our Sunday buddy. He was an inspiration to my family, including my two children, each of whom have begun their own careers in broadcast journalism largely because Tim made Sunday mornings a family viewing experience. I so very much admired him, and had the privilege of meeting him often in Washington over the years.
Tim always made you feel like a million dollars, even us small fry in the Washington journalism establishment.
When we occasionally bumped into each other at 400 North Capitol -- the downtown bureaus for both NBC and Fox News, he always had more than a minute for me. "Tell me, Ambassador, what's new in the world that I need to know?" What an honor, I thought...giving Tim Russert a sidewalk briefing on world events, as if he couldn't get a far better review from the morning's papers.
But Tim was an extraordinary kind man...who always made you feel like you were important to him, and boy, he always had a kind word when our paths crossed.
But one especially wonderful moment with Tim stands out.
My wife and I were in Manchester, NH for the primary in January. We had just finished breakfast at the Merrimack Diner, and the restaurant was crowded with media celebrities, and a few presidential candidates, on that cold Sunday morning.
As we were paying our check at the front cash register, a tourist handed me his camera and asked if I would snap a photo of him with Tim Russert, who was eating at the counter. As I took his camera to snap his picture with the celebrated host of Meet the Press, Tim told the man: "You surely must also want a photo with him, as well." "Why, who is he?" asked the man. Tim responded: "That's Amb. Marc Ginsberg...that's my foreign policy expert who is on Fox News."
Tim said that just loud enough for my wife to hear the compliment. As we were leaving the diner, I told Tim that he could not have said anything that mattered more to me, especially in front of my wife. He made me feel a million miles high that morning, because you could always, always count on Tim Russert to make you feel great.
Tim, you were a World Class "Mensch," (Yiddish for "a truly wonderful person), and we are all the more wiser for your having entered our lives. We will miss you, and I want to thank you for making us feel like we mattered in your life, just as you mattered so very much in ours.
Support HuffPost
The Stakes Have Never Been Higher
Related
Popular in the Community