WASHINGTON -- When it comes to selling his colleagues on the benefits of meditation, Rep. Tim Ryan (D-Ohio) is a patient man.
Only a handful of lawmakers come to his Quiet Caucus gatherings, which he's been holding weekly for nearly a year and a half as a way for members to ground themselves amid the chaotic pace of Congress. The sessions his office offers to congressional staffers fare slightly better -- a few dozen aides come together periodically for guided meditation and talks by leading voices in holistic health practices. But that's out of more than 24,000 Hill staffers.
"It's slow going," Ryan conceded.
But he's not giving up. As part of a renewed push to infuse mindfulness into the halls of Congress, Ryan on Wednesday hosted the first in what he hopes will become a series of sessions featuring professional athletes and military veterans sharing stories about how meditation has helped them, mentally and physically.
"Meditation has totally changed my life," said Keith Mitchell, an NFL player with the New Orleans Saints until a head injury left him paralyzed for six months. It wasn't until he discovered meditation in his rehabilitation that he said he realized his life wasn't over. He said practicing breathing techniques helped him endure the rigorous process he went through to get back on his feet, literally.
Without meditation, "I couldn't be here in front of you with a sound mind, through all the injuries I sustained by playing football all my life," said Mitchell, who stood before the room in a House office building and walks just fine.
Mitchell later led everyone in the room in a 20-minute meditation -- the kind of work he now does professionally in Los Angeles.

Billy Birdzell, who spent eight years in the Marine Corps, told those who attended that alternative therapies like meditation helped him overcome post-traumatic stress disorder. He noted that he spent four years overseas in Special Operations.
"I got to see what my sympathetic nervous system did at full speed for like a decade," Birdzell said. "And it broke."
Through meditation and acupuncture, Birdzell said he eventually became asymptomatic and his hormone levels returned to normal. "Everything's fine," he said. "I get invited back to parties."
Beyond his meditation sessions on Capitol Hill, Ryan has his eye on making the mind-body connection more important in policymaking. He introduced legislation that would incorporate alternative medicine into veterans' health services, and he's examining financial savings that can be achieved by using meditation and acupuncture to help curb prevalent medical conditions, including diabetes. He has written a book on the subject: A Mindful Nation: How A Simple Practice Can Help Us Reduce Stress, Improve Performance and Recapture the American Spirit.
"Put simply, mindfulness is about finding ways to slow down and pay attention to the present moment, which improves performance and reduces stress," Ryan writes. "The mindfulness revolution is not quite as dramatic as the moon shot or the civil rights movement, but I believe in the long run it can have just as great an impact."
His efforts have already had an effect on local meditation enthusiasts. Former Washington Redskin Derrick Dockery came to Wednesday's session, along with vets from the D.C. Veterans Affairs Medical Center, which runs a mindfulness-based stress-reduction program. They had nothing but praises for what Ryan is doing.
"I'm an old soldier," said one vet, Bernard, who served in Vietnam. "I don't know how much I've got left on this earth, but I do know it's going to be being conscious of my breathing and all that goes with it. ... It's a blessing."
Another Vietnam vet, James Quinn, said he spent 40 years with the "pedal to the medal" in the military. He said focusing on his breathing "has been my anchor" by helping him to sleep better and reducing his anger. It also played a role in getting him to Wednesday's session after he got stuck in traffic.
"It took me two hours to get here. A couple of months ago I would have turned around," Quinn said. "But I learned to deal with it through breathing and concentration."
By having professional athletes and veterans speak up, Ryan said he's hopeful that he can help to dispel stereotypes about meditation being something fluffy and show it's an empowering practice with tangible health benefits. He's already talking to some "higher profile" people about coming to the Hill, including alternative medicine guru Deepak Chopra and more athletes in the NFL, the NBA and professional golf. He wouldn't name names.
"I don't want to out them as meditators yet," he said. "Stay tuned."
Before You Go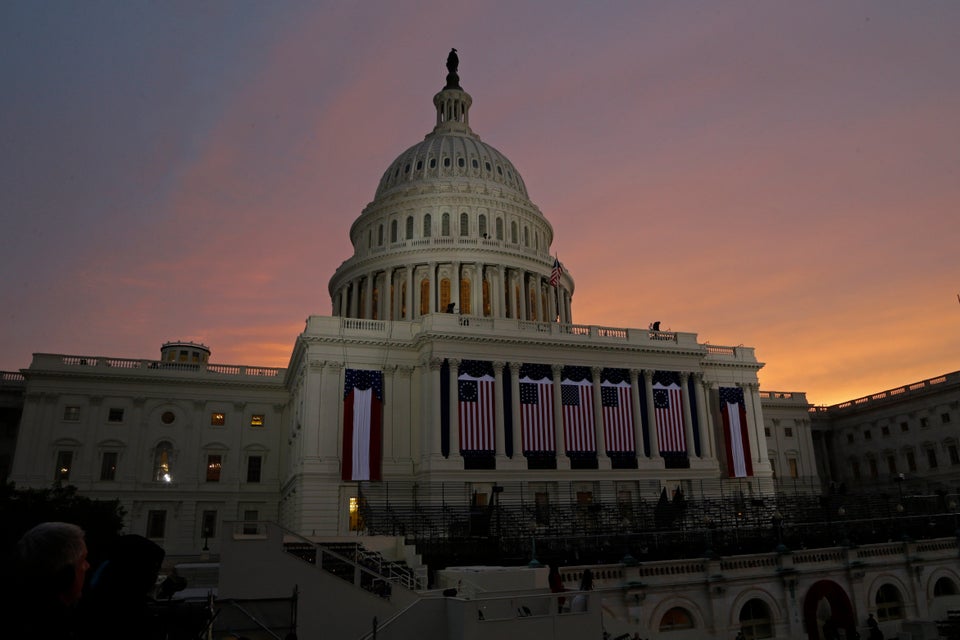 U.S. Capitol Photos
Popular in the Community