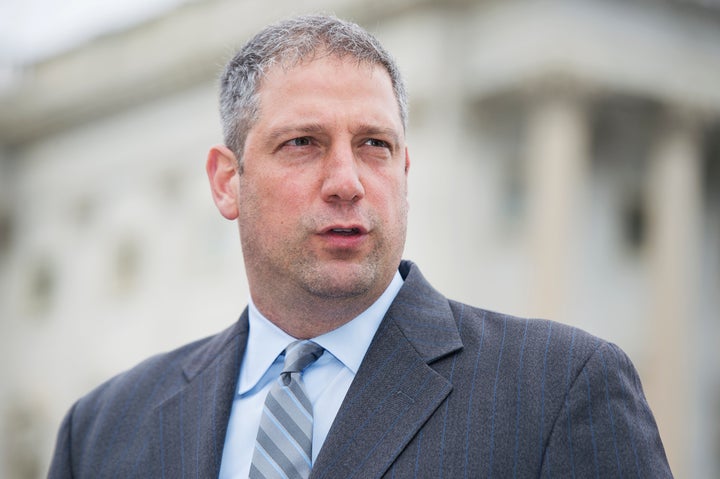 WASHINGTON ― Rep. Tim Ryan (D-Ohio) isn't running for House minority leader. But he may run. But he may not. Or maybe this is about something else entirely.
For all the 14 years that Ryan has been in Congress, Minority Leader Nancy Pelosi (D-Calif.) has been at the top of the Democratic Caucus. And now, after six years of House Democrats taking a drubbing on Election Day, Ryan is saying it's time for a change in leadership.
"I don't like Nancy Pelosi; I love Nancy Pelosi," Ryan told The Huffington Post on Wednesday. "I think she's terrific. I mean, she's got more energy than half the caucus put together. She knows how to raise money. She's great on the floor."
"But," Ryan continued, because of course there's a but, "it's about, 'Is she the best person to help us get the majority back?'"
Ryan argued that Pelosi would have a hard time going into a Republican district and convincing voters that they should support Democrats. "And so we need a leader who can go into all of those areas."
"I'm feeling out whether or not there are people who have been here awhile who may have views on this stuff," Ryan said.
If that sounds squirrelly, it probably should.
Ryan has been busy making the rounds on cable news and calling Democratic colleagues, determining if this is something that's feasible.
"I am getting calls and I am making calls. But not just for me. I'm kind of feeling where the caucus is, you know?" Ryan said. "Where are we and is there an appetite for change?"
There seems to be an appetite for something, at least. Democrats delayed leadership elections Tuesday after Ryan and other Democrats lobbied Pelosi over the weekend to postpone the minority leader race. (Ryan ended up taking his name off of a letter pushing Pelosi to delay the voting for fear that other signers might be seen as supporting his tentative candidacy.)
But the question remains: Is Ryan actually running ― he continues to pass on answering that, even as he seems to be campaigning ― or is he is simply a placeholder for another candidate?
Ryan, 43, acknowledges that he would step aside if the right person came forward.
"Doesn't have to be me," he said. "I mean, I got a young family. This has never been an aspiration of mine. I've been here 14 years. Never dreamed of running for leadership. But we got to do something. Donald Trump is the president of the United States. That means we really screwed up."
After passing on a previous run for the Ohio governor's mansion, Ryan also passed on a Senate run in 2016, with Sen. Rob Portman (R-Ohio) cruising to victory over former Democratic Gov. Ted Strickland.
For the time being, he seems happy to raise his profile ― which he acknowledged he had done ― by flirting with a run for minority leader and potentially demonstrating to another candidate that there's hunger for a leadership change.
"I'm not sure I'm the best person for this job," Ryan said. "I'm not sure that I'm the guy that would do it. But I do think someone that comes from an area of the country like mine, somebody that represents a district like mine, that can connect with working-class people in the Great Lake states."
The candidate Ryan seems to be waiting on is the current vice chairman of the Democratic Caucus, Joe Crowley, who's expected to easily become the chairman, if he doesn't run for something bigger.
Crowley (D-N.Y.) has the connections across the caucus to mount a real challenge, even with Pelosi's near-stranglehold on the position. The Hill reported Wednesday night that Democrats have been trying to recruit Crowley to run.
He's made little indication that he's open to challenging Pelosi, but he also doesn't sound entirely against the idea at this point.
"I am getting calls and I am making calls. But not just for me. I'm kind of feeling where the caucus is, you know?"
When The Huffington Post confronted Crowley on Wednesday night on his way to vote, he evaded repeated questions about whether he was running for minority leader.
"Going to vote," Crowley said, as an aide interrupted and tried to end the interview during a casual walk through a tunnel to the Capitol.
"I got less than 30 seconds before the vote closes," Crowley said. His aide insisted that she needed to talk to him and that they needed space. "We're working here," Crowley said, wryly.
Meanwhile, despite the delay to the election, Pelosi is already claiming she has two-thirds of the caucus lined up behind her, and Democratic aides are insisting that Crowley would have difficulty coalescing lawmakers behind his candidacy ― and that Queens, New York, isn't exactly the Rust Belt.
"The liberal wing of the party would burn down the Capitol if two New Yorkers cozy with Wall Street became the top Democratic leaders," one House aide told HuffPost. "[Senate Minority Leader Chuck] Schumer has been able to hold off liberal criticism of his Wall Street record, but a Joe Crowley candidacy for leader would break the dam."
The aide continued that Crowley wouldn't beat Pelosi and that he was better off "becoming unanimously elected caucus chairman than risking it all for something he cannot win."
In the meantime, while Crowley makes his decision, there's chatter that outgoing Caucus Chairman Xavier Becerra (D-Calif.) has been making calls about a potential leadership run himself, possibly for leader but also possibly for whip, the position occupied by longtime Democratic leadership No. 2 Steny Hoyer (D-Md.).
The Pelosi-Hoyer combination has sat atop the House Democratic Caucus for well over a decade, with Pelosi's name in front ever since she leapfrogged Hoyer in a 2001 race to become minority whip. Hoyer, 77, seems to be waiting for Pelosi to retire so he can take the top job, and Pelosi, 76, seems to be waiting for Hoyer to retire so she can leave. The two have been sort of high-functioning frenemies ever since they interned for former Sen. Daniel Brewster (D-Md.) in the 1960s.
So House Democrats, currently in their smallest minority since 1929, keep electing small variations of the same leadership team, despite losing the majority in 2010 and bleeding more and more seats since then.
With Trump at the top of the ticket, Democrats expected gains of 20 or more seats. They won six or seven, depending on how some recounts shake out.
That's leading many Democrats to question how they ever got here.
"Republicans control everything," Ryan said. "And I'm scared to death of what they're going to do. And, you know, I'm half Irish and half Italian, so I want to fight."
Ryan said Trump presents voters with a real contrast between the two parties. "They're going to kick people off their health care. They're going to privatize Medicare. And they're going to cut taxes for the wealthiest people in the country."
"There's not going to be a clearer contrast," he said.
Ryan acknowledges that he hasn't been the prolific fundraiser that Pelosi has, but he says the problem for Democrats hasn't been fundraising.
"Like, this isn't about money," he said. "If it was about money, Hillary Clinton would be president and we'd be in the majority."
Still, he grants that Democrats may feel more comfortable with someone having more experience leading the caucus, particularly with Trump as president and Republicans controlling both chambers.
That may suggest Ryan is just clearing the path for Crowley, perhaps raising his profile for his governor's bid. He promises, however, that if he does get in, he'd be serious about. "If I would get in, it would be to win it, I'll tell you that."
He's just not in right now.
Support HuffPost
The Stakes Have Never Been Higher
Popular in the Community