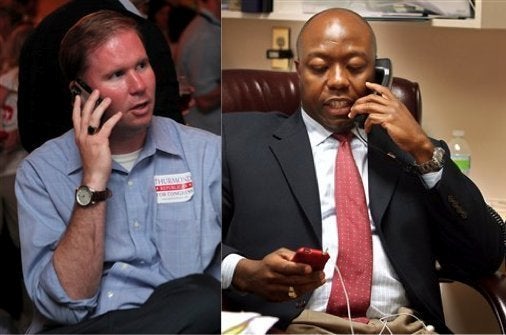 62 years ago, then-South Carolina Governor Strom Thurmond ran for President on a segregationist "Dixiecrat" platform. During his campaign, he made a speech in which he notoriously said that "there's not enough troops in the army to force the Southern people to break down segregation and admit the nigra race into our theaters, into our swimming pools, into our homes, and into our churches."
More than half a century later, Strom Thurmond's son, Paul, is battling in a GOP primary for South Carolina's 1st Congressional District -- a battle he's expected to lose -- against Tim Scott, an establishment-backed, Sarah Palin-endorsed, African American, Tea Party conservative.
Scott may stand out as a particularly unlikely success during an electoral cycle in which the GOP has made a serious but largely unsuccessful push to put forward a medley of viable and diverse candidates. National Republicans have selected 32 African Americans to run for office.

The [GOP] effort has not had much success. Most of the Republican candidates have lost their primaries or have been given little chance of winning. That helps explain the GOP's enthusiasm for Scott; he is the only black Republican expected to win, and one of just two or three given any chance at all.
Despite the seeming irony of Scott's likely victory over the son of one of the most controversial politicians in race-relations history, the racial dynamic of the race is rarely discussed publicly, replaced instead with a debate about the candidates' positions on the popular conservative issues of earmarks and spending.
But South Carolina Republicans might not necessarily view Scott's predicted success with excitement, despite the fact that Scott has run to the right of Thurmond. Some claim that the GOP is backing him solely on the grounds of his diversity and not his politics.
"The RNC is so hyped up to have the first African American in however many years," Janet Spencer, a founder of a South Carolina tea party group based in Myrtle Beach told the Washington Post. "We don't have anything against minorities, we just don't think he is the best fit."
Popular in the Community