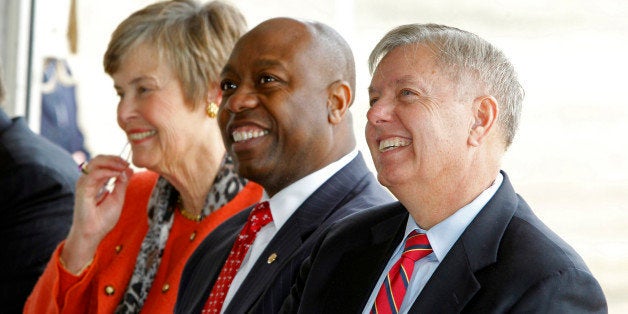 WASHINGTON -- Sen. Tim Scott (R-S.C.) was amused, more than anything else, by his upcoming cameo in a NowThis News video referencing the Netflix series "House of Cards."
One of the next things on Scott's schedule that day was the taping of his short scene. The 48-year-old senator padded over to a couch in his Capitol Hill office and planted his shoeless feet, clad in blue-and-pink patterned socks, on a coffee table. He pulled out his phone to find the line that he had been asked to memorize.
"I've looked at it once. My line that I have to remember, it's, 'The nature of promises, Linda, is that they are immune to changing circumstances,'" he said with a wry grin and a mock serious tone.
Asked if he had ever watched the Netflix show, he said, "Never. I heard it was really good though."
Scott has been a senator for barely a year. Only six years ago, he was a member of the county council in his home town of Charleston, S.C. Since then, he has enjoyed a quick rise to political prominence. He was elected to the U.S. House as part of the tea party wave in 2010 and was named to his U.S. Senate seat by South Carolina Gov. Nikki Haley (R) in late 2012, making him one of just nine African-American senators in the nation's history.
Scott has eased into his role in the Senate, keeping a relatively low profile. He combines a very conservative voting record with more moderate political rhetoric, but what sets him apart from some other Republicans is that he is calling for the GOP to focus its solutions on lower- and middle-class Americans rather than big business.
There is a political incentive for Scott to strike a balance and not veer too far to the right: For the next three years, he is operating on an electoral schedule more like that of a House member. He was appointed to fill the seat vacated by former Sen. Jim DeMint (R-S.C.), who left only two years into his second term to become president of the Heritage Foundation, and Scott must win an election this fall to finish the final two years of that term. Then he will have to run again in 2016 for a full term of his own. If Scott wins this fall, he will become only the fifth African-American to be elected by popular vote to the U.S. Senate -- and the first popularly elected from the South.
But Scott's emphasis on poor and middle-class Americans is also an outgrowth of his own life. He grew up in modest circumstances, the son of a divorced mother in North Charleston. He said he "struggled for most of my life -- and had a great time, by the way, most of the way." Eventually he became a successful businessman, owner of an insurance company and a real estate company.
He is also preparing to host other living current and former African-American U.S. senators at a Feb. 25 forum to celebrate Black History Month. Former Sens. Carol Moseley Braun (D-Ill.), Roland Burris (D-Ill.) and Mo Cowan (D-Mass.) and current Sen. Cory Booker (D-N.J.) are set to attend. Only former Sen. Edward Brooke (R-Mass.), who is 94, and President Barack Obama cannot attend, Scott said. Later that day, he will speak at Howard University to cap off a tour of the historically black colleges and universities in his home state.
The following are edited excerpts from the senator's conversation with The Huffington Post.
On the Black History Month forum with the other African-American senators:
"We're just going to talk about the history, the journey to the U.S. Senate, personal journey, mentors that we had at the time and what we see as the prospect for a better America. We're gonna try to keep it nonpartisan since four of those guys are Democrats and I'm the Republican. I'm the one sponsoring the event by myself. So I'm, like, praying that we don't have, like, a partisan clash. I'm pretty good on my feet, but I can't imagine four against one."
On whether he's rooting for former Oklahoma state House Speaker T.W. Shannon (R) to win the special election this fall to replace Sen. Tom Coburn (R), which could lead to the first time three African-American U.S. senators have served together:
"He's got an impressive resume, but [Rep.] James Lankford [Shannon's chief Republican primary opponent] and I have been prayer partners, on the cover of [a] Focus on the Family [publication] together. So I really don't have a dog in that fight."
On the debate over whether President Lyndon Johnson's "War on Poverty" has succeeded or failed:
"Have we made progress in helping those who are most vulnerable in our society? The answer is yes, we've made progress. We should not begrudge the fact that we've made progress. … The better question ... is whether or not we are helping people to prepare to end poverty for themselves. That goes to skills. It goes to education. It goes to opportunity."
On how the GOP should think and talk about its economic agenda:
"We often think about opportunity and prosperity on our side in [terms of] tax breaks to the big corporations. Sometimes ... trickle-down economics improves, without question. But sometimes we ought to think about what the pressure of new taxes and new regulations are on the take-home pay of somebody making $15 to $20 an hour. It's not for corporate America. Everybody passes it on to the end user. So what I have to challenge myself on is not to fall into the same trap that is an accurate depiction of what happens, but that's not the most important part. The most important part is what happens to the person who is struggling to take home more money. That's my cause. I think government stands in the way too often of that."
On his circle of friends back in South Carolina:
"Most of my friends are solid to lower middle-class earners, but highest-quality people. They're just the most loyal people you'll ever find. They've been with me for 30 years and beyond. My best friend who really got me involved in my faith, Roger, and I have been friends since I was 14, and he's still my best friend."
On when he began to take his Christian faith seriously:
"About 17, 18. First year in college. I became a Christian when I was 18."
On whether he thinks the GOP needs to improve its policies or its salesmanship of ideas:
"I think it's both actually. I think we have the wrong emphasis on good policy discussions. And sometimes you need an absolutely different policy to reach people who are most in need. ... Somebody asked me the question the other day ... a pastor said, 'Do you want to be better known for improving education, or do you want to be best known for changing the direction of education?' I'd rather be the latter, not the former."
On what his most outside-the-box proposal has been so far:
"I think it's going to be my opportunity zones. I'm building them off the TIF districts that I had when I was on county council. TIF districts are the Tax Increment Financing districts where you use ad valorem taxation in an area to take the money that would be coming out of those tougher, blighted areas, and as the development happens, you leave those resources to build the infrastructure, to do more work within those areas. I think by zip code we could create opportunity zones that would allow us somehow to take the federal revenue and do the exact same thing we do in ad valorem taxation. I'm building that out now."
CLARIFICATION: An earlier version of this story misstated the nature of Sen. Tim Scott's acting. He has a cameo in a video for NowThis News referencing "House of Cards," not a cameo in the Netflix series itself.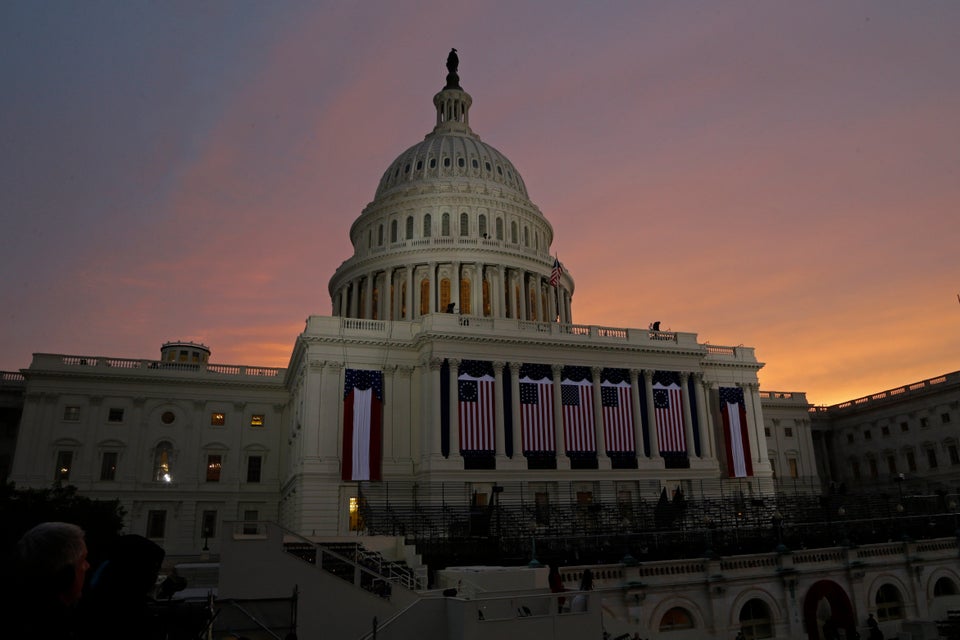 U.S. Capitol Photos
Popular in the Community