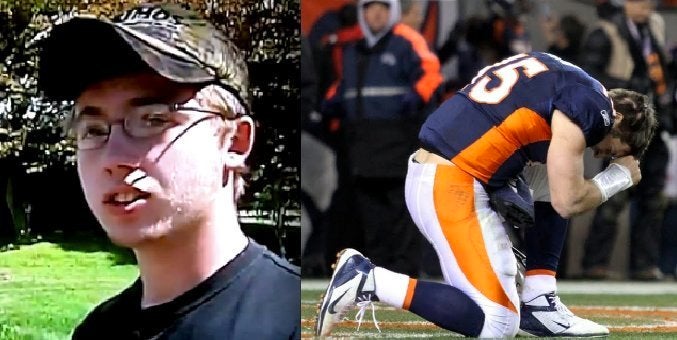 Turns out "Tebowing" is lame on and off the field.
Police in Pennsylvania are looking for a man who stopped his car specifically to push 17-year-old Josh Ehrenberg off a lawnmower, and then taunt him with the "prayer" move made famous by former Denver Broncos quarterback Tim Tebow.
The scene unfolded on Ehrenberg's Shenango Township lawn as he was cutting the grass on Monday morning, The Smoking Gun reports.
A driver who was "male, bald, and wearing glasses" allegedly stopped his Chrysler, got out and "knocked the juvenile off the lawn mower and assaulted him in the front yard of the residence," apparently at random, according to a police report obtained by the website.
"He clotheslined me off the tractor, and [it] landed on me," Ehrenberg told reporters. "And did a Tim Tebow before he left, and got back in his car and drove away."
Scroll Down To WATCH The Interview
Police are still looking for information leading to the arrest of the Tebower. Tipsters can call 724-654-2243 to report new information.
Popular in the Community