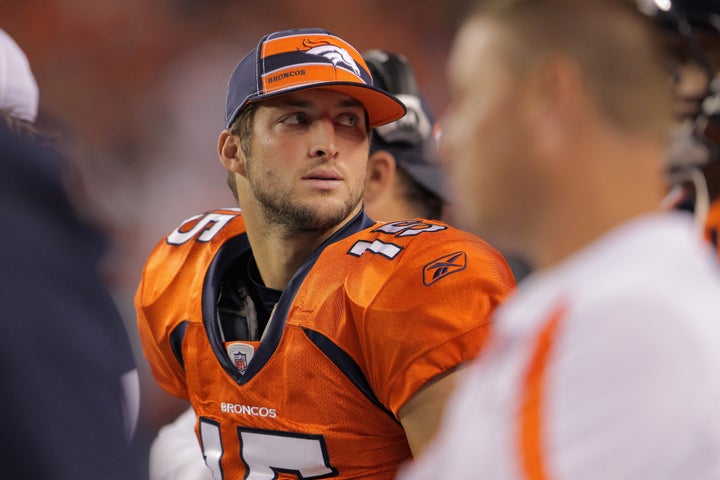 The seconds quickly ticked off the clock as the Broncos slowly, haltingly moved the ball down the field late in the fourth quarter. By this point, the crowd at Mile High had grown increasingly frustrated with the stuttering, conservative attack. Late in Monday night's loss to the Raiders, the fans decided, with seeming unanimity, that there was a reserve player who could play the role of savior, if only given the chance
Fans throughout the stadium began chanting "We want Tebow" as starting quarterback Kyle Orton tried leading his team to a fourth quarter comeback. Even after Orton threw a 9-yard touchdown pass to Lance Ball to cut Oakland's lead to three with just under four minutes left, the fans hardly paused the "Tebow" chants.
Based on his stat line, Orton didn't have that bad of a game. Just ask Tony Romo. In what Denver Post reporter Mark Kiszla described as coach John Fox's boring ball-control offense, Orton went 24 for 46, threw for 304 yards and a touchdown. But two costly turnovers, an interception in the second quarter and a strange fumble in the third, helped the Raiders build a big enough lead to win the game.
To further complicate matters, the Broncos' coaching staff doesn't even think that Tebow would be next in line if they were to pull the plug on Orton. Bray Quinn is currently the No. 2 quarterback on the depth chart. This disconnect between the fan base and those in an organization proves that Tebow is polarizing on the field and on the bench.
After all, Cowboys fans weren't cheering for their backup quarterbacks after Romo put up similar (but slightly better) numbers in Dallas' loss to the Jets on Sunday night. Romo threw for almost 40 more yards than Orton and one more TD pass, but his fumble on the goal line and a late interception cost Dallas a game that they had pencilled into the win column, and that's according to Romo himself. And yet, Dallas is not clamoring for Jon Kitna or the Cowboys' third-stringer, what's his name?.. oh, Stephen McGee.
Brian Floyd of SB Nation described Monday night's chants for Tebow as a "mystifying phenomenon" and wrote that Orton made throws on Monday night Tebow simply can't pull off.
Tebow's place on the depth chart didn't look like it was going to change anytime soon, as the former Heisman winner stood on the sideline with his Broncos cap and a rain jacket at points during the game while seemed loose and ready if an injury were to make a change necessary.
But as Kiszla wrote in his column Tuesday morning, "The Tebow Thing" is here to stay:
But hearts in Denver burn with yearning for Tebow.

Maybe Orton should have found a way to accept that trade to Miami on the eve of training camp, and got out of Denver when the getting was good.
RELATED VIDEO: Tebow Benching Sparks Mile High Controversy In Preseason
Calling all HuffPost superfans!
Sign up for membership to become a founding member and help shape HuffPost's next chapter