 Fans of Denver Broncos' quarterback Tim Tebow have created custom jerseys that feature the name "Jesus" displayed above Tebow's number, according to KTVQ.
While some say the shirts are simply a way to honor the proudly Christian player, others are speaking out against the divine comparison.
"It's making Tebow out to be a god instead of an athlete," one person told the Christian Post. "I'm happy he's a Christian and isn't afraid to demonstrate that, but for fans to hold him up in such high regard, perhaps comparing him to Jesus, is going too far."
"I know Tim Tebow fans are loyal with a capital ... who am I kidding, they're LOYAL in all caps. So I guess if you're a true Tebow supporter, altering the jersey of the NFL quarterback for the Broncos to read "Jesus" instead of "Tebow," wouldn't seem over-the-top. Particularly since the QB is so emphatically Christian..."
Apparently, the jerseys have been around since as long ago as this summer, according to Larry Brown Sports, who have no reservations in their support of the Jesus jerseys:
Tim Tebow is the golden child. The chosen one. He is Jesus in cleats and he's waiting for his lord and savior to put down his headset and congratulate him... In fact, if I were to purchase a Tebow jersey, I most assuredly would get one that says "Jesus" on the back too.
While the quarterback is still choosing to wear his given name on the back of his jersey, Tebow has never been one to shy away from making his religious beliefs known.
Earlier this year, the former University of Florida player knelt in prayer on the field, unintentionally starting a new trend and giving birth to an internet phenomenon known as "Tebowing."
Still, the phenomenon of Jesus on Tebow's jersey is troubling for some observers of the role of religion in sports. "The appearance of the name "Jesus" on the nameplate of a Broncos no. 15 jersey clearly continues -- escalates, really -- the ongoing deification of Tim Tebow," wrote Tom Krattenmaker, author of Onward Christian Athletes in an email to The Huffington Post. "These jerseys amount to a trivialization of the Christian faith that ought to disturb serious Christians. I hope Tebow insists on a product recall."
So was this jersey just bound to happen? Share your thoughts in the poll or leave a comment below.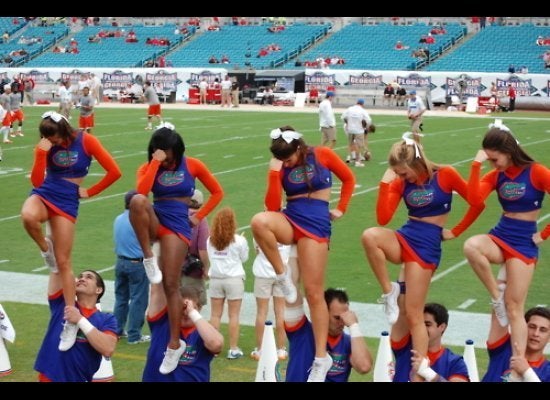 PHOTOS: Tebowing
Popular in the Community