A photo of the New York Jets' newly-minted backup quarterback Tim Tebow inside GQ's NFL kickoff issue has become quite the subject of controversy after critics blasted the pictorial for portraying Tebow as a "Sexy Jesus."
In the black-and-white "Sexy Jesus" photo, Tebow poses shirtless with his arms outstretched and legs crossed. His side-turned face is tilted slightly downward, painted with a forlorn expression.
Scroll down to see Tim Tebow's GQ photos.
The photo, which appeared alongside an article entitled "Have You Accepted Tim Tebow as Your QB and Sunday Savior?," was released on Tuesday, which happened to be Tebow's 25th birthday.
Craig Carton, host of the Boomer & Carton radio show on Sports Radio 66 WFAN, crucified Tebow, the famously religious NFL star whose on-field genuflections proved to be the perfect ingredient for a Tebowmania, for his Sexy Jesus pose during the morning show, calling him "fraudulent," "disgusting" and "egotistical."
Tim Tebow is posing as Jesus, but not any kind of Jesus. He is posing as 'Sexy Jesus.' Now, I'm not a very religious guy, but I do know the tenets of religion and I know what Jesus stood for and I know that many people that believe in that stuff, right, and live their life by that code take that very seriously... But I can tell you that hardcore, conservative, religious people that believe in Jesus and fear God... When you see a guy, who clearly thinks he is Jesus -- he is posing as Jesus, legs crossed, arms out, like he's on the freaking cross, and he's got tight junk pants on showing off his big junk with no shirt on -- and he's posing as Sexy Jesus, he is a fraud.
The radio host went on to say, "He gets it, he plays the role. He's typically very, very sincere and very, very consistent about who he is and what his beliefs are. You just saw a little inkling into what he thinks of himself."
Others agreed with Carton.
"All that is missing is an actual cross and a crown of thorns," wrote Yahoo! Sports contributor Lynda Altman. "Tim Tebow may have gone too far on this one. Is it right for a nice Christian boy to play to the media like this? Tebow is far from being the football savior the Jets need. As for saving anything else or anyone--I'll leave that to a higher power than Tebow mania."
Although religious connotations fueled the controversy surrounding the GQ editorial, the article is strictly about football and Tebow's move to New York. The 25-year-old was traded from the Denver Broncos in March. Now, the pressure is on to see how he will perform as part of Rex Ryan's pack and how New York fans will respond.
"I think if they're a Jets fan, hopefully they'll be rooting for me," Tebow told GQ's Devin Gordon. "I'll do whatever I can to help this team win football games. I'll give my heart and soul whenever I step on that field and even when I'm on the sidelines. And at the end of the day, that's really all you can ask of someone."
However, Gordon could not help but acknowledge how he was struck by Tebow's aura.
"Back in Denver, Tebow was criticized for playing the noble innocent while others did the assassinating on his behalf, letting him ascend unscathed into the spotlight," wrote Gordon. "One time he was chastised and fined by the team's other QBs for not proactively denouncing a highway billboard in Denver clamoring for Tebow to be the starter. Back then, when I was eager for reasons to hate Tebow, I sided with his teammates. But now, standing two feet from him, it seems ridiculous to hold him responsible for the antics of some schmucky fan. As if Tebow is God or something."
LOOK: Tim Tebow in the GQ September issue.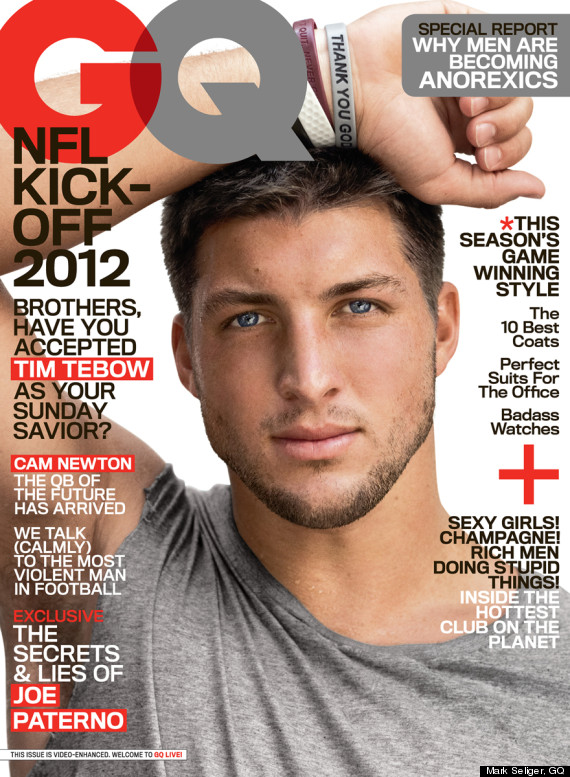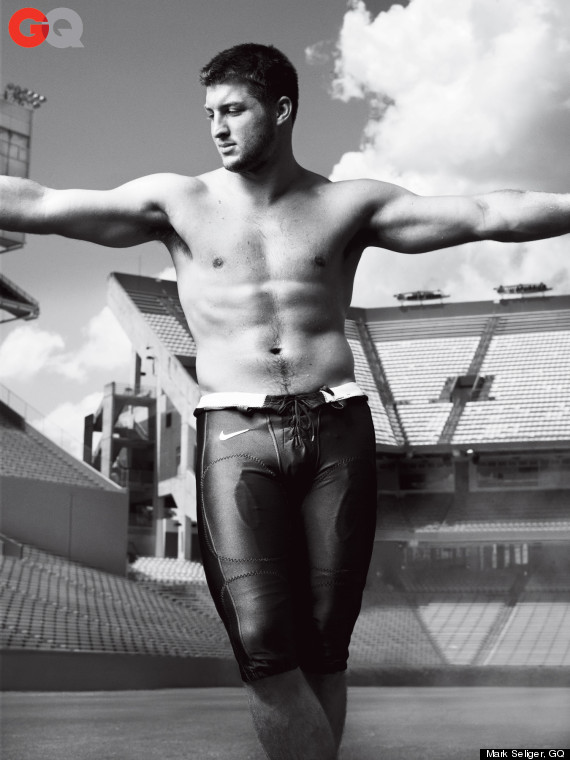 Calling all HuffPost superfans!
Sign up for membership to become a founding member and help shape HuffPost's next chapter
BEFORE YOU GO
PHOTO GALLERY
WATCH: Tim Tebow Highlights