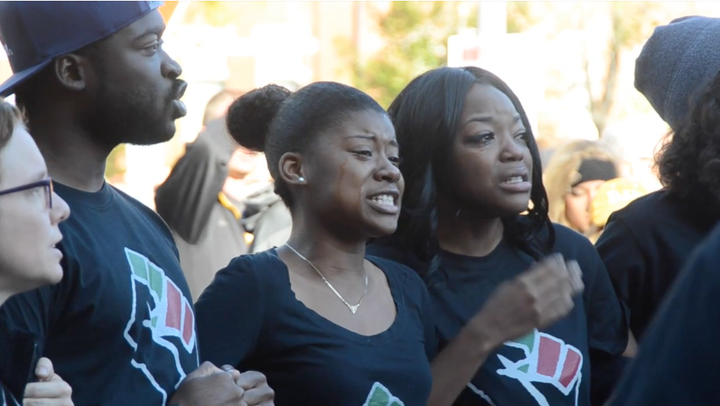 When students at the University of Missouri started a petition calling for the system's president, Tim Wolfe, to resign, it was not simply because he hadn't done enough to address racism on campus. The petition clearly stated students were outraged that Wolfe sat in silence while his driver clipped at least one protester with a car during a demonstration weeks earlier.
On Oct. 10, a group of black students interrupted the Mizzou homecoming parade. Wearing T-shirts that read "1839 Was Built On My B(l)ack," referring to Mizzou's founding and slave labor, the students stopped right in front of the convertible that Wolfe was traveling in as he waved to parade watchers. The students took out a megaphone and one by one began speaking about incidents of systemic and anecdotal racism from the founding year 1839 through 2015.
A crowd of mostly white people watching the parade began to yell at the black students within one minute to "move on" and get out of the street. Many chanted "M-I-Z, Z-O-U" in an attempt to drown out the activists.
After three minutes, two white men came out and tried to move the students aside, drawing cheers from the crowd.
Then the driver of Wolfe's car tried to drive around them. The students moved their line, arms linked, to block the driver, who continued to try to push forward. The driver again tried to get through a moment later, coming in contact with one of the students.
At that point, an older white man came out and physically pushed several of the students away with his body. A few other white men and women then came out and formed their own human chain, linking arms and standing between the students and the car to allow Wolfe's vehicle to get through.
It took about 11 minutes before a couple of police officers intervened and asked the black student activists to step aside to allow Wolfe's car to drive. White people cheered when this happened.
Wolfe remained silent the entire time. With the car's top down, he could easily see the entire encounter unfolding right in front of him.
Another video, from the Columbia Missourian, shows the emotional state the activists were in after their demonstration. Jonathan Butler, who would later start a hunger strike in protest, shouts on the megaphone, "We will not continue to be called niggers on this campus, believe that!"
Wolfe did not address the incident for nearly a month. It wasn't until Butler was on his hunger strike, calling for Wolfe to resign, that the president finally issued a statement on Nov. 6 apologizing for just sitting there as his driver tried to steer around the students.
"I regret my reaction at the MU homecoming parade when the ConcernedStudent1950 group approached my car," Wolfe said. "I am sorry, and my apology is long overdue. My behavior seemed like I did not care. That was not my intention. I was caught off guard in that moment. Nonetheless, had I gotten out of the car to acknowledge the students and talk with them perhaps we wouldn't be where we are today."
But by the time Wolfe made that statement, the activists were already calling for his removal. It was his inaction at the homecoming parade, on top of what students said was silence from him in light of other racist incidents at his schools, that resulted in calls for his removal.
"He does not understand systems of oppression, yet claims to care about Black students," the students said in a petition started last week. "He did not intervene in the violence students faced during the peaceful parade demonstration on October 10, 2015 and has not apologized or recognized his negligence. We are asking for the immediate removal of Tim Wolfe."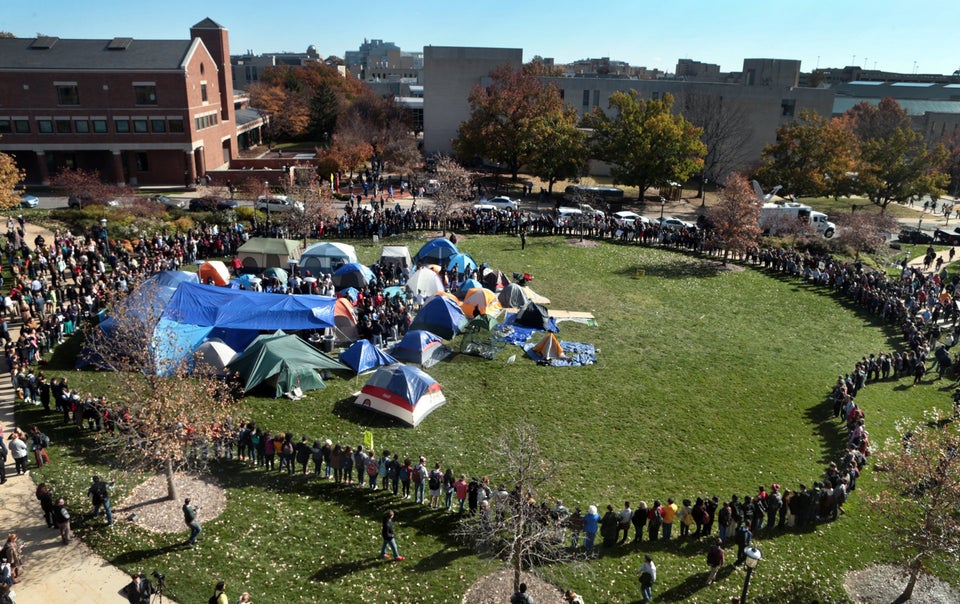 Scenes From The Protests At Mizzou
Related
Popular in the Community